Chris Kissell
If your kidneys no longer function on their own, a transplant can save your life.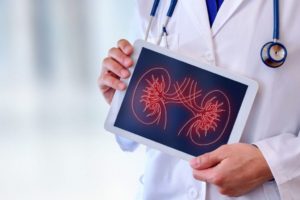 But young blacks people and people without private health insurance are less likely to be assessed as candidates for kidney transplants when they start dialysis treatment, according to a study published in the Clinical Journal of the American Society of Nephrology.
The study also found that patients who aren't assessed at the beginning of dialysis are less likely to appear on kidney-transplant waiting lists and to receive transplants.
"The disparities we observed primarily affected younger patients," says Rachel Patzer, one of the study's co-authors and an assistant professor at the Emory University School of Medicine in Atlanta.
That fact is especially troubling, because a younger patient's life expectancy may be "increased to a greater extent than older patients' (life expectancy)" after receiving a kidney transplant, Patzer says.
Reasons for disparity 'unknown'
The study's co-authors examined data collected by Medicare between 2005 and 2009, as well as other data, and found the disparities among black patients younger than 35 and all patients without private health insurance.
"The reasons for this disparity are unknown," Patzer says.
Patzer says it's possible that young blacks are less likely to be assessed for transplants because they're more likely to be uninsured than people in other demographic groups.
She says there are several potential explanations about why patients without health insurance are less likely to be considered for kidney transplants when beginning dialysis.
For example, Patzer says, it's possible that providers are more likely to discuss a transplant option with insured patients because of preconceptions that such patients have more resources to navigate the transplant process. Or patients without health insurance simply may not have access to primary care physicians or medical specialists before developing end-stage kidney disease.
"Their first introduction to a major change in their life may be dialysis, and either the patient or the physician may feel too overwhelmed to consider transplantation as a treatment option," she says.
However, Patzer says, "none of these hypotheses have been specifically tested."
Solutions to the problem
Patzer says the best way to chip away at the disparity is to increase kidney patients' access to health care and to make sure physicians are reimbursed for educating patients about transplant options.
The federal Medicare Improvements for Patients and Providers Act of 2008 allows reimbursement for providers to educate patients who have chronic kidney disease.
"All patients should be assessed for transplantation and should have transplant options discussed if there are no (conflicting medical conditions)," she says.