Marcus Pickett
Imagine a tornado levels the home that's been in your family for generations. You have home insurance for situations like these, and you decide to rebuild. But laws have changed since your old home was first constructed. To rebuild, you'll have to comply with a slew of updated building codes and regulations. These upgrades can get expensive — and your home insurance likely won't cover them.
A special type of coverage, called law and ordinance insurance, gives financial protection against higher repair and replacement costs that stem from updated building codes. Typical home insurance policies cover the costs of returning a property to its former condition after a disaster. If building codes have changed since your home was built, supplemental law-and-ordinance coverage can guard against unexpected out-of-pocket costs.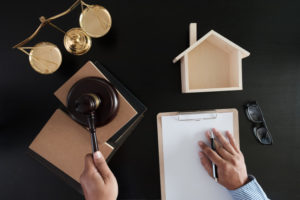 Avoid falling through the cracks
In most law and ordinance insurance policy clauses, there's crucial fine print to read before assuming that all additional costs will be covered. Some policies have more (or different) exclusions than others. Some policies cover only a portion of the higher replacement costs. There are, however, two particular exclusions that you should be aware of:
Timeline exclusions: Many policies cover only the laws and ordinances in place at the time the damage occurs, according to consumer advocacy organization United Policyholders. This can create a Catch-22 because catastrophic events often serve as catalysts for new, stricter building codes. For example, imagine a hurricane destroys your home. Before you can finish (or even begin) repairs, building codes change to require walls that withstand stronger winds. Your law-and-ordinance insurance coverage, however, only covers the costs of bringing your home up to the standards in place the moment the hurricane hit.
Covered peril exclusions: If property damage occurs for any reason other than a peril that is covered under the policy, the law and ordinance coverage will not kick in. Nor does this coverage typically provide for building code renovations to undamaged areas of the building or property, according to Florida's Office of Insurance Regulation. In other words, if only part of your building is destroyed, you'll need to have everything updated to code — but your insurance will cover only the destroyed parts of the building.
The importance of coverage
Florida has mandated that insurance companies include law-and-ordinance coverage as part of their home insurance policies, according to the state's Office of Insurance Regulation. Homeowners can opt out of the coverage, but they must sign a document waiving it. Other states have no such mandates; they rely on insurance companies to offer optional coverage.
Florida requires that consumers be warned of the importance of law-and-ordinance coverage — and the consequences of turning it down. According to the Office of Insurance Regulation, home insurance policies issued after 2005 must include a statement that declares, "Law and ordinance coverage is an important coverage that you may wish to purchase….Without this coverage, you may have uncovered losses. Please discuss these coverages with your insurance agent."
Law-and-ordinance coverage for businesses
Law-and-ordinance coverage applies to businesses, just as much as it does to homeowners. In fact, many building and land-use codes apply only to businesses. Aside from building codes and commercial zoning laws, businesses may need to comply with anti-pollution and clean air laws as well as the Americans with Disabilities Act, according to investment and financial services company SS&C. Law-and-ordinance coverage can help businesses pay for these complex, costly and ever-changing rules.