Liability: (n) the quality or state of being liable (responsible).
Many of us experience times in our lives when we're liable—legally obligated to pony up money because of injury to someone else or damage to things that aren't ours.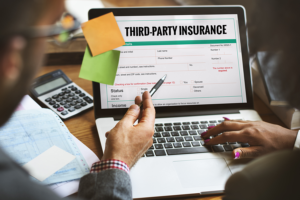 Fortunately, we have insurance for such regrettable episodes.
If you drive you probably have some level of liability protection through your car insurance. (Having a minimum amount of liability protection is a requirement in all 50 states.)
If you own a home, there is also a good chance you have some protection against the financial risks of homeownership (the biggest risk: getting your knickers sued off). While liability coverage through a home insurance policy is not required by law, it's one of the wisest investments you can make as a homeowner.
Where does one get liability insurance? Most individuals get liability coverage through an underlying policy, such as car insurance, or homeowners and renter's insurance. Another source of liability protection is through an umbrella liability insurance policy.
If that last term is unfamiliar, umbrella liability insurance essentially provides another layer of protection to your homeowners and auto insurance policies. Let's say you cause a 15-car pileup, and you're responsible for $700,000 in damages (it was a big wreck) but your auto policy limits pay out to $300,000 per accident. An umbrella policy will make up the difference. Or maybe a houseguest slips on your daughter's roller-skates and subsequently decides to finance his retirement by suing you for everything you've got. If you've got a minimum of liability protection under your homeowners policy, you'll notice it can go pretty fast.
We Americans love both driving our cars and suing each other. As long as those two activities remain national pastimes, it's a good idea to beef up on your liability coverage wherever you can!