A critical component of sound financial planning, life insurance protects dependents by providing critical resources that help replace lost income when a family member loses their life.
Though death isn't the most popular topic of conversation, we all worry how loved ones would survive life in our absence. But with the right insurance policy in place, there's no need for concern: spouses can cover final expenses, pay off mortgages, send children to school or care for aging parents during the later years of life.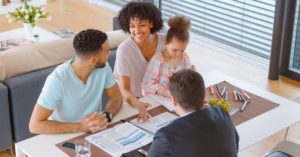 Making Way for Final Expenses
When planning for the future, buying insurance is one of the best ways to make provision for final life expenses early on. With the average funeral now costing between $8,000 and $10,000, paying the cost of services, casket, headstone and burial plot can make a significant dent in any family's budget—and deplete life savings in no time.
Some breadwinners choose pre-need burial insurance, which allows policyholders to pre-pay final expenses, then choose their own service and final life resting place—decisions most spouses would prefer to avoid making. While this is a viable choice for some, it's generally better to buy a more substantial, all-inclusive life plan that designates financial resources to be used as the policy's beneficiary sees fit.
Paying off Mortgages
A mortgage represents one of the biggest expenses in a homeowner's life. While taking on monthly payments, taxes, insurance and interest, families shoulder long term financial weight that's best handled together.
But remove one person (especially the main breadwinner) from the equation and the possibility of loan default, foreclosure and overall life stress and strain increase exponentially.
Purchasing insurance helps relieve the pressure of paying mortgages long term. Following a family member's loss of life, the insurance company may provide families funds they can use to pay homes off in lump sum—eliminating monthly payments, lowering interest paid and decreasing their home's overall price in the process.
Educating Children
With the average cost of a private college education now hovering around $30,000 a year, families should consider educating their children a future life investment. But with costs like these, many parents struggle to accumulate the funds needed to send their kids to school.
By earmarking insurance funds to be used for education, policyholders can set their kids up for a fruitful, productive life—and an education that offers opportunities their offspring might otherwise bypass.
Studies show that kids who get an education are more successful in life. Make provision to educate children now by purchasing a life policy. Proceeds can be used to send children to school and ensure a productive future.
Caring for Aging Parents
Aging parents have special needs and often need help with the functions of daily life. That burden usually falls to family members—most often adult children—who must find the resources needed to cover medications, failing health conditions, and increased risk of accident and injury as the elderly age.
The resources insurance provides can help pay for senior care and mental health services during a parent's life. Without these types of insurance funds, the elderly may not get the financial and emotional support needed—and family members may end up overextended and burned out.
Making Financial Provision
Life insurance is an important part of any family's financial plan. With the right insurance provisions in place, loved ones can spare family members stress and hardship—and ensure support for a new way of life.