As a condominium owner, your insurance needs fall somewhere between that of a homeowner and a renter. You will likely need two separate policies to address all your home insurance needs.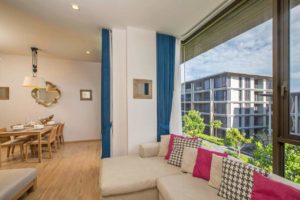 Your Co-op's Policy
The condo or co-op association's master policy covers liability and physical damage to common areas like the lobby, basement or hallway.
Your Own Policy
Your policy covers personal possessions; additions such as cabinets, light fixtures, appliances and shelves; and additional living expenses, if your home is damaged by a disaster covered in your policy. Also, liability protection covers injuries and damages to individuals or property for which you'd be responsible.
Things to Ask About
What Structures Of Your Home Are Covered By Your Condo/Co-op Association?
Read your association's bylaws and find out exactly what is covered so you can get adequate insurance. Some associations insure the entire unit as it was originally built-this excludes any additions or renovations made by you or previous owners. Other associations only insure the bare walls, floor and ceiling. This means you are responsible for additions as well as the plumbing and wiring of your apartment.
Are You Protected Against Water Damage?
If the sewers or drains back up, will you be covered? Some policies protect against water damage while others do not. Make sure to check and see if??this is part of your policy.??
Do You Need Flood Or Earthquake Insurance?
If you live in an area prone to those types of natural disasters, you should spring for the additional coverage. Standard homeowners policies don't cover floods or earthquakes, but you can purchase both separately through your insurance agent.
Do You Need Additional Personal Property Coverage?
Most home policies cover your personal possessions up to around $2,000. If you have expensive items like jewelry, furs or collectibles, you might want to get additional coverage for those big-ticket items.
Are You Eligible For Any Discounts?
If you're shopping condo insurance, you're aware how expensive it can be. You may be able to lessen the financial burden by raising your deductible or installing safety fire and anti-theft devices. If you insure with the same company your condo/co-op association has their master policy with, you may also pay a lower premium.
Protect your belongings. Get condo insurance today. Start by using InsureMe to get matched with local agents!