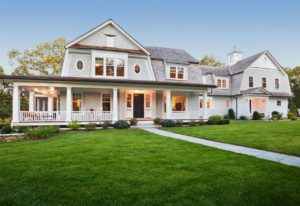 Why do I need homeowner's insurance?
Without it, you risk losing your home and the possessions therein to fire, theft and other calamities.
Can I own a home in my state without homeowners insurance?
If you've taken out a loan to finance the purchase of your home, your lender will most likely require you to purchase some form of homeowners insurance. This protects their investment in case your home is damaged or destroyed.
Once your loan is paid off, you are under no obligation to keep your policy—but leaving your home uninsured puts you at great risk for financial loss in the event of a catastrophe.
How much coverage do I need?
Determining your need for home insurance is important to accurately protect your possessions.
You will want to make sure you insure your home for the replacement cost rather than the actual cash value. Insuring your home for the replacement cost will provide money to repair or replace the damaged property with similar materials without deduction or depreciation.
Conversely, insuring your home for the actual cash value provides compensation for lost or damaged property minus the deductions for depreciation.
What kinds of insurance protections are available to me?
The most common types come in three forms: Basic, Broad and Special.
Basic:
Provides limited coverage for 11 perils such as fire and smoke damage; wind and hail damage; vandalism and damage caused by civil misconduct.

Broad:
Provides expanded coverage from the basic 11 perils such as falling objects; collapse of structure; weight of snow and ice and damage caused by home appliances.

Special:
Provides coverage from all perils. This form of Massachusetts homeowner's insurance protects the structure of the home and all of its contents.
Will I have to renew my insurance policy when it expires?
Homeowners insurance will carry an expiration date which is determined by your insurer; therefore you will need to renew your policy to keep it in tact. However, your must be aware that insurers are not required to renew your policy.
According to the Massachusetts Department of Insurance, if your insurer decides not to renew your policy, they must notify you of such at least 45 days before the policy expires with an explanation as to why they are dropping your policy.
If you feel that your policy was dropped unjustly, you may contact the company's consumer affairs department. If you are still unsatisfied, don't hesitate to contact your department of insurance with complaints.
What if I can't get my home insured?
If you are unable to purchase Massachusetts homeowner's insurance through the regular market, you may be able to obtain insurance through the Massachusetts Property Insurance Underwriting Association. 
For more information, or to see if you meet eligibility requirements, call (800) 392-6108.