If you're a Massachusetts resident looking for insurance, you're in the right place. We've compiled all the info you need to help you find home, auto, life, health or long term care insurance right here on this page.
We recommend you read it over, contact the Massachusetts Division of Insurance at 617-521-7794 with any questions, and let us help you find the coverage you need today.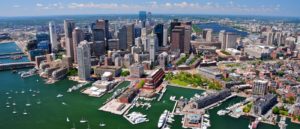 With the highest auto insurance claim rate in the U.S., the state of Massachusetts is hard at work trying to replace its currently overregulated market with a new system in which insurance companies establish their own competitive rates based on driving records.
This effort, long overdue in the eyes of many of the state's drivers, would remove the state government's current rate-setting authority, allowing insurance companies to set rates instead, and usher in a competitive consumer marketplace.
These changes seem a necessity for the state with the fourth-highest auto insurance rates in the nation.
Massachusetts currently allows drivers to purchase their car insurance from any state-licensed insurer. However, all auto insurance companies must share the losses associated with high-risk drivers, who keep state-mandated rates high.
The more market share an insurer holds the more financial risk it must carry. This places an unfair burden on some of the state's largest insurers, which ultimately pass it along to drivers—even those with clean driving records.
Under a reformed system, consumers could shop around for the best coverage and prices, choosing their own auto insurers. This is a major step toward free enterprise in the state's auto insurance marketplace, and would encourage auto insurance companies to offer competitive prices; help some of the state's best drivers tailor coverage to their needs and get the low rates they deserve; and give high-risk drivers incentive to improve accident and claims rates.
Here are answers to a few common questions about homeowners insurance in Massachusetts. For more help, ask an agent licensed in your state or call your state department of insurance (number listed above).
Why do I need homeowners insurance?
Without it, you risk losing your home and the possessions therein to fire, theft and other calamities.
Can I own a home in my state without homeowners insurance?
If you've taken out a loan to finance the purchase of your home, your lender will most likely require you to purchase some form of homeowners insurance. This protects their investment in case your home is damaged or destroyed.
Once your loan is paid off, you are under no obligation to keep your policy—but leaving your home uninsured puts you at great risk for financial loss in the event of a catastrophe.
How much coverage do I need?
Determining your need for home insurance is important to accurately protect your possessions.
You will want to make sure you insure your home for the replacement cost rather than the actual cash value. Insuring your home for the replacement cost will provide money to repair or replace the damaged property with similar materials without deduction or depreciation.
Conversely, insuring your home for the actual cash value provides compensation for lost or damaged property minus the deductions for depreciation.
What kinds of insurance protections are available to me?
The most common types come in three forms: Basic, Broad and Special.
Basic:
Provides limited coverage for 11 perils such as fire and smoke damage; wind and hail damage; vandalism and damage caused by civil misconduct.
Broad:
Provides expanded coverage from the basic 11 perils such as falling objects; collapse of structure; weight of snow and ice and damage caused by home appliances.
Special:
Provides coverage from all perils. This form of Massachusetts homeowner's insurance protects the structure of the home and all of its contents.
Will I have to renew my insurance policy when it expires?
Homeowners insurance will carry an expiration date which is determined by your insurer; therefore you will need to renew your policy to keep it in tact. However, your must be aware that insurers are not required to renew your policy.
According to the Massachusetts Department of Insurance, if your insurer decides not to renew your policy, they must notify you of such at least 45 days before the policy expires with an explanation as to why they are dropping your policy.
If you feel that your policy was dropped unjustly, you may contact the company's consumer affairs department. If you are still unsatisfied, don't hesitate to contact your department of insurance with complaints.
What if I can't get my home insured?
If you are unable to purchase Massachusetts homeowner's insurance through the regular market, you may be able to obtain insurance through the Massachusetts Property Insurance Underwriting Association.
For more information, or to see if you meet eligibility requirements, call (800) 392-6108.
Recently, Massachusetts became the first state to require health coverage for all of its citizens. The Commonwealth Health Insurance Connector connects qualified residents with affordable health insurance, if they don't already have it.
If you have a low or modest income, you and your family may be eligible for free or subsidized health insurance through MassHealth. MassHealth programs offer discounted coverage for expectant mothers, families, children, small businesses, people who are HIV positive, as well as elderly and disabled individuals.
If you leave your job, it is possible to remain on your old group plan for a limited time. This is called COBRA or state-continued coverage. State-continued coverage can help you while you shop for a new health insurance policy or wait for a new one to start.
To save money on health insurance, take advantage of the following tips:
Buy group health insurance. If your employer doesn't offer health insurance, look to other groups and clubs you belong to, as they are also eligible to purchase a small group policy.
Consider any extras that can be taken out for a lower premium. Coverage areas like vision, dental and mental health can usually be removed, if necessary.
Buy early. Remember, in your state, health insurance policies are guaranteed renewable, so buying your policy now—even if you are healthy—is a surefire way to make sure you are covered later, when you might not be enjoying good health.
A life insurance policy can help protect your family in the event of your death by providing a supplemental income to pay for bills, taxes, and other necessities.
It is important to note that your need for life insurance can change over a lifetime. Consider the following:
Single adults may not need an extensive life insurance policy unless they are single parents or taking care of someone, such as an elderly parent.
Working couples may not need ample life insurance coverage, as long as the surviving spouse makes a good income and there are no major debts to pay off.
Families usually need a life insurance policy because their children depend on their income.
Unfortunately, there is no clear-cut formula to tell you how much life coverage you need. The Massachusetts State Department of Insurance reports that most consumer groups recommend up to five times your gross annual income, while some organizations recommend buying up to ten times your annual gross income. Under these recommendations, a family with a gross income of $40,000 might want to take out anywhere from $200,000 to $400,000.
Experts also recommend assessing your needs by addressing the following:
Immediate needs at the time of death, such as final illness expenses, funeral and burial cost and estate taxes.
Funds for a period of adjustment — time and money to finance a move or to find new, higher-paying jobs.
Ongoing financial needs. such as outstanding debts, child care, college tuition and retirement.
Don't forget about any additional assets such as cash, savings, Social Security and pension.