Justin Stoltzfus
It can be hard to justify going to the doctor when you're not even sick, so annual doctor visits can be easy to put off. But what if that visit were free? It is now for Medicare recipients.
The federal health care reform law requires Medicare to provide one free visit every year for each patient. When recipients first enroll in Medicare, they have the option of a "Welcome to Medicare" visit. After that, they get one free (no deductible or co-pay) "wellness" visit every 12 months, according to the U.S. Department of Health and Human Services.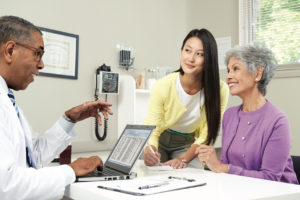 The annual Medicare wellness visit is covered by Medicare Part B and by Medicare Advantage plans. Patients can expect their doctors to do the following during their wellness visits, according to Medicare.gov:
Perform blood pressure, vision and weight checks.
Go over the patient's current prescriptions, medical history and family medical history.
Make sure the patient is up to date on shots and screenings.
Recommend further tests if necessary.
According to Medicare.gov, patients should bring the following to their first visit after enrolling in Medicare:
Medical records, including immunization records.
Family health history. Some conditions can be inherited, and knowing the patient's health history can help a doctor know what to watch out for.
A list of all drugs being taken, including prescription drugs, over-the-counter drugs, vitamins and supplements.
A Medicare wellness visit differs from the routine physicals that many patients might be used to, according to Commonwealth Primary Care, a physician practice in Virginia. Instead of a "hands on" checkup, the visit is more about counseling and planning. In other words, patients can expect to talk with their doctors about what care they've had in the past and what care they need in the future. For that reason, Commonwealth Primary Care recommends scheduling a separate visit to address any existing chronic health conditions.
The more counseling-based approach of the wellness visit may be more effective at prolonging life than routine physicals are, according to the Palo Alto Medical Foundation in California. A "top to toe" physical exam doesn't have much of an influence on long-term overall health, according to the foundation's website. A wellness visit, however, encourages the patient and doctor to build a long-term health plan, assess an individual's vulnerability to major health risks and establish ways for the patient to make healthy lifestyle choices.