Natural and man-made disasters take thousands of lives each year; wiping out entire communities in their wake; injuring many; and leaving businesses, homeowners and families emotionally and financially devastated.
From hurricanes, tornadoes and earthquakes to incidents of civil disorder and terrorism, catastrophes cost the insurance industry $25 million or more per event, devastating their coffers and increasing the price of insurance nationwide.
Some events are more devastating than others. Consider the following four disasters, all of which occurred in the last 20 years and resulted in more damage than any other catastrophes in U.S. history—thus earning each one the title 'mega catastrophe.'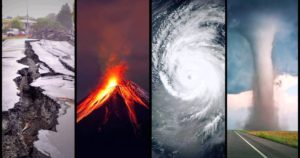 1. Hurricane Andrew
Far more destructive than ever expected, Hurricane Andrew hit the Bahamas and Southern Florida on August 23 and 24, 1992, in the middle of the night. It then moved across the Gulf of Mexico and struck portions of Louisiana and other southeastern states on August 25 and 26 with renewed force.
As it moved over land, the hurricane built to gusts of nearly 200 mph, flattening communities, leaving a sea of debris in its wake, and leaving 250,000 people homeless.
When all was said and done, more than 680,000 insurance claims were filed for $30 billion dollars worth of damage following hurricane Andrew. As a result, 11 property and casualty insurers became insolvent, many others were financially impaired, and still others were forced to look to their parent companies for financial rescuing.
2. The Northridge Earthquake
Measuring 6.8 on the Richter scale, the Northridge earthquake jolted this community in the San Fernando Valley, a few miles northwest of Los Angeles, California, on January 17, 1994. As it shook, it also set off other disasters, such as fires and landslides, and resulted in many business and highway closures.
The quake ended up killing more than 60 people, injuring 12,000, destroying about 8,000 homes and damaging 114,000 buildings, as those left standing struggled to keep themselves and their families safe from harm.
Afterward, 430,000 homeowners claims and thousands of business claims were filed, costing insurers and taxpayers about $20 billion overall.
3. The World Trade Center Attack
When two planes, piloted by terrorists, flew into the World Trade Center in New York City on September 11, 2001, killing almost 3,000 and injuring hundreds more, no one could have predicted the effect this event would have on our nation, both emotionally and financially.
Following the mayhem and rescue of thousands, more than 35,000 insurance claims were filed in New York State alone, two-thirds of which were commercial property claims and one-third personal claims.
Among claims cited were loss of life, life-threatening injury, lost income and expenses, workers compensation injury and loss of business operating expense.
4. Hurricane Katrina
 Formed over the Bahamas and hitting Florida first on August 25, 2005 as a category 1 storm, then gathering strength and moving across the warm waters of the Gulf of Mexico and hitting Louisiana as a category 3, Hurricane Katrina resulted in one of the most devastating losses in U.S. history.
With hurricane-force winds covering an area 250 miles wide, the damage she caused was severe and widespread, taking homes and businesses with her up and down the coast. In the end, more than $40 billion in insured losses and more than 1.7 million insurance claims were the result.
Almost 2,000 people lost their lives in this storm and the subsequent floods it caused, and many bodies were never found. This makes Katrina the deadliest hurricane since 1928.