by Jeb Foster
Picture this: An open road. A desolate landscape stretching out in front of you. (Let's say somewhere in Monument Valley, Utah.) The wind is at your back. The tanks is full.
Then this thought spoils the moment: Do I have (enough) insurance?
To prevent a moment-spoiling tragedy, make sure you've got the insurance part figured out before you gas up the hog and hit the road.
The first thing to do is check the laws in your state. While most require a minimum amount of liability coverage, there is quite a bit of state-by-state variation when it comes to motorcylces. Contact your state department of insurance (find yours here) and ask about motorcyle insurance.
Some insurers sell separate policies just for motorcycles, while others offer coverage as part of an endorsement on an existing auto policy. It's a good idea to check your options with your auto insurance provider first, because you may get a discount for bundling policies.
Motorcycle insurance coverages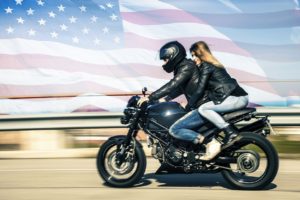 Although you may already be familiar with the following terms, let's take a second to go over the various coverages:
Liability: Liability covers bodily injury and property damage that you cause to others. The Insurance Information Institute (III) recommends checking to make sure your prospective policy includes Guest Passenger Liability.
Uninsured/underinsured motorist: If a driver without insurance or adequate coverage hits you, this coverage pays for medical treatment, lost wages and, usually but not always, property damage.
Collision: As the word suggests, collision coverage pays for damage to your ride if you're in an accident. Most insurers will cover the actual cash value (or "book value") of your motorcycle. You can choose the deductible you want–the amount you pay before your insurers starts paying, that is.
Most riders wear helmets: According to the U.S. Department of Transportation, 63 percent of motorcyclists wore helmets in 2008, an increase from the previous year.
Comprehensive: This coverage pays for motorcycle loss or damage that's not the result of an accident-theft, fire, vandalism, etc. Like collision coverage, comprehensive covers the book value of your bike (not the original retail price), minus your deductible.
Factors that will affect your premium
Type of bike: A high-performance sport bike may cost you more than a mellow touring cruiser. Why? Because the former is more dangerous and is historically more attractive to people who like to take risks. Many insurers will simply look at the size of engine in deciding how much to charge.
Intended use: If you live in Minnesota and plan to commute year-round to work on your Harley, brace yourself for a steeper premium. Some insurers may actually give you a break if you buy a "lay-up policy" wherein, in exchange for a lower premium, you opt not to drive during the winter months.
Storage: This may sound like a no-brainer, but if you plan on throwing a blue tarp over your bike and storing it in the driveway where the world can see it, you're likely going to have to pay more for insurance than if you plan on tucking it away in a secure garage.
Driving record: Again, this is pretty straightforward. If you have a clean driving record, you will probably be rewarded with a lower premium. There are often also discounts available for graduates of safe-driving courses and members of motorcycle associations.