Jill Overmyer
Valuable collectibles, furniture and electronics are particularly vulnerable during a move. If you're planning to relocate, be sure to get insurance that protects you if something is lost or damaged between your old home and your new one.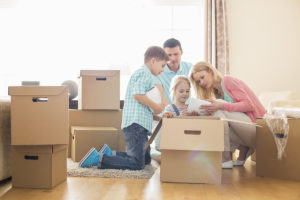 Some people may mistakenly assume their belongings are covered by their home insurance policies during a move. However, most home insurance companies do not cover costs associated with items lost or damaged in transit, and you'll have to pay your deductible before any coverage kicks in, according to the National Association of Insurance Commissioners (NAIC).
Professional movers
Professional movers assume responsibility of your goods during a move, but only to a certain extent. Many moving companies automatically will offer basic coverage for your items while they're in transit. The amount of coverage varies by company and depends on whether the move is an in-state or interstate one — but you can expect 30 to 60 cents per pound for anything lost or damaged, according to NAIC.
You may have the option of buying additional coverage from the moving company. Typically, reimbursement is offered based on either a depreciated amount or the full replacement value of an item.
According to the Ohio Public Utilities Commission, a "depreciated value" plan allows you to declare the current market value of your goods (what you originally paid for them minus depreciation). If your belongings are lost or damaged, you'll be reimbursed for that amount.  A "replacement value" plan, on the other hand, allows you to be reimbursed for the cost necessary to replace lost or damaged items.
Do-it-yourself rentals
Companies like U-Haul and Budget Truck Rental let you pack and transport your belongings yourself. Many personal auto insurance policies will cover rental cars and trucks only up to a certain weight, according to the Washington Office of the Insurance Commissioner. Before you assume your policy covers you while you're behind the wheel of a 26-foot moving truck, check with your insurance company.
If your auto policy does not cover belongings while moving, you'll want to purchase coverage from the rental company itself or ask your own insurance company about your options. Keep in mind that in addition to making sure your property is covered, you'll want to be covered for liability in the event you cause an accident or damage property with the moving truck. Budget, for example, offers optional coverage for contents, bodily injury and property damage. Most rental companies also will offer coverage for any damage you cause to the moving truck itself, according to NAIC.