If you're a Nebraska resident looking for insurance, you're in the right place. We've compiled all the info you need to help you find home, auto, life, health or long term care insurance right here on this page.
We recommend you read it over, contact the Nebraska Department of Insurance at (402) 471-2201 with any questions, and let us help you find the coverage you need today.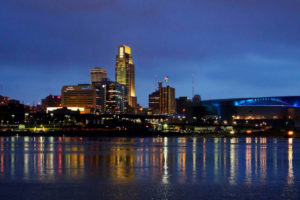 Nebraska law requires all car owners to purchase minimum amounts of insurance in order to operate a vehicle within the state. However, the only coverage the state actually requires is liability insurance, which pays for injuries you cause another person, or property damage you cause others through negligent driving.
The two types of liability coverage you must carry are bodily injury and property damage. Minimums are:
$25,000 per person per accident
$50,000 per accident bodily injury; and
$25,000 per accident property damage.
This is often referred to as 25/50/25 coverage. It is always a good idea to consider buying higher limits than what state law requires. State minimums may not be sufficient to cover the complete value of your car, provide adequate finances for medical bills incurred as the result of an accident, or protect you fully from lawsuits.
One type of car insurance which may be required by your lender if you decide to finance your car is physical damage. This pays for damage to your car, minus your deductible, in case of an accident.
Wise insurance shoppers get the best coverage at the best price by:
Buying only the coverage needed
Paying premiums on time and maintaining constant coverage
Setting deductibles as high as possible
Conducting research and comparison shopping
Inquiring about discounts
More than two out of five working adults either have difficulty paying their medical bills or are in medical debt, according to a recent study by The Commonwealth Fund. This makes getting the right health insurance coverage very important.
Health care costs continue to rise due to increasing medical technology, rising drug prices and aging baby boomers, more employers are cutting employee health insurance benefits. This means Nebraska workers are paying more out-of-pocket for their medical insurance coverage.
In exchange for your premium payments, health insurance companies are required by law to cover certain health benefits, such as mammograms and diabetes care. Other services commonly covered include:
Hospitalization
Pediatric care
Surgery
Maternity care
Medical tests and X-rays
Doctor's office visits
If you have a pre-existing condition, or one diagnosed before you purchased your health policy, you may have to wait a while before your provider covers you for its treatment. This is because there are no limits on pre-existing health condition exclusion periods in this state.
Nebraska also imposes no limits on what a health insurer can charge you for coverage if you buy an individual health plan. You may be charged higher rates due to your age, health status, gender or other characteristics. However, once you purchase a plan, your provider cannot cancel your policy if you get sick. This is referred to as guaranteed renewability, and can mean the difference between financial disaster and a secure future.
When you purchase home insurance, you are actually getting a protection package, covering both your home and the things you keep in it. This package defends you against property damage, as well as legal and financial liability for injuries or property damages you or a family member cause others.
Standard policies cover most disasters; however, some perils are not covered by the usual insurance policy. The most significant of these are flood and earthquake damage.
If you live in a low-lying area susceptible to flooding or an area prone to earthquakes, ask a licensed insurance provider for a policy that includes these natural disasters.
You should purchase enough homeowners insurance to cover:
Your home's structure
Your possessions/contents
Any additional living expenses you may face if your home is damaged and you must live elsewhere temporarily
Your liability to others
Most lenders require you to insure your home for at least 80 percent of its replacement cost. However, many experts recommend coverage at full replacement cost. If disaster strikes and you have to completely rebuild your home, you need enough insurance to do so.
Have your home re-appraised every few years and adjust your level of home insurance accordingly. And remember: Your home's value increases with inflation. So protect yourself against underinsuring.
To figure out if you should purchase life insurance, you need to consider the worst-case scenario, and ask yourself: "If I died tomorrow, how would my death financially affect my loved ones?" It is for this reason that life insurance should be incorporated into your long-term financial goals.
The two most common forms of life insurance available in your state are term and whole life insurance.
Term Life Insurance:
Covers you for a term of one or more years
Can be renewed, but usually for a higher premium
Generally does not build cash value
It is important to understand that a term life policy only pays a death benefit if you die during the policy's term. A term life policy generally gives you the best premium for your dollar, but is better for covering expenses like a car loan or child care, which will be alleviated with time.
Whole Life Insurance:
Provides lifelong protection
Larger initial premiums are invested to build cash value
Cash value may be borrowed against
When it comes to borrowing against a whole life policy, you must understand that if the loan is not paid back at the time of your death, the loan—plus interest—will be deducted from your life insurance death benefit.