by Penny M. Hagerman 
Where do you live? Did you know the type of neighborhood you live in has a lot to do with how much you pay for homeowners insurance?
As our needs change, our communities grow to meet those needs. As a result, new types of urban and suburban neighborhoods sometimes spring up, some more traditional than others.
Depending on factors like location, proximity to downtown, security and the age and makeup of each neighborhood's residents, home insurance rates may run higher or lower from one neighborhood to another.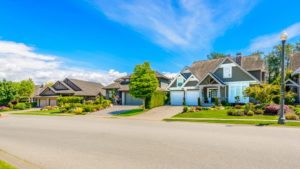 What Goes on Where You Live?
How does your 'hood rate? Do you understand why you pay what you pay for insurance in your area?
Perhaps you're considering moving across town. Or leaving the city in favor of peaceful country life. Do you know what homeowners insurance will cost when you make the move—and why?
If you're preparing to buy a new home, consider the following types of neighborhoods (as defined by Frontdoor.com) and their insurance distinctions before making your purchase. You'll learn what to expect insurance-wise before you move, help keep home insurance rates in check—and protect your home and family, no matter where you live.
Neighborhood #1: Urban Core
Downtown areas in major metropolitan cities make up these types of neighborhoods. Consisting of mostly apartments and condos converted from old warehouses and above businesses, these areas are perfect for those who enjoy night life and city attractions. However, insurance rates in urban cores tend to run higher than average due to excessive crime, dense populations, illegal activity and transients.
Neighborhood #2: Urban Pioneer
Located near downtown areas and close-in suburbs, urban pioneer neighborhoods are up-and-coming areas that attract an ethnically diverse mix of mostly blue-collar singles, couples, retirees and immigrants. Consisting of modest but affordable older homes, urban pioneer neighborhoods enable occupants to purchase a nice (but often small) home likely to increase in value. However, crime and a lack of security is often a problem in these neighborhoods, leading to higher insurance rates than in most suburban areas.
Neighborhood #3: New Urban
New urban neighborhoods can be found near business hubs outlying city centers. Consisting of new single-family homes, upscale apartments and condos, and lofts above businesses decked out in retro styles known for architectural detail, these areas draw educated, affluent-to-middle-income singles and couples with no or few children. Because home prices and incomes tend to run higher here, it's more expensive to insure a home in this type of neighborhood. However, with businesses close by, occupants are much less reliant on their vehicles, which helps keep the environment cleaner and reduce auto insurance rates.
Neighborhood #4: Bedroom Communities
The typical 'burbs seen in movies and on television, bedroom communities exist as new subdivisions containing newly built, tract homes; manicured lawns and finished basements. Serving mostly families made up of middle-aged parents and their children, occupants usually spend time socializing and bonding with their neighbors. Because they're more suburban, spread out and set apart from the activity of the city, bedroom communities usually experience less crime, which helps keep home insurance rates low.
Neighborhood #5: Pedestrian
Most major metropolitan cities contain small, outlying pockets of homes made up of brownstones, cozy condos and apartments. In these areas, residents walk everywhere they need to go, eliminating or greatly reducing the need for a vehicle. There's little to no parking, yet young hipsters and single professionals enjoy being in such a casual, friendly atmosphere. Crime rates usually run low here, making home insurance rates affordable.
Neighborhood #6: Historic
Consisting of large, well-preserved, older single-family homes known for architectural styles such as Victorian and Colonial Revival, historic neighborhoods have lots of curb appeal, history and character. Often located near downtown or in well-known areas, homes in historic neighborhoods tend to be well patrolled by law enforcement and contain more stable, mature residents—which helps keep home insurance rates down. However, the expense involved in repairing or replacing expensive homes like these tends to drive rates upward.
Neighborhood #7: Status
Normally located in luxurious areas such as mountains or behind water or gates, neighborhoods of status tend to contain custom-built, single-family homes in trendy, urban areas. Filled with the affluent, celebrities and millionaires, these neighborhoods are often gated, secure, patrolled, exclusive and private. What does that mean? You guessed it—higher insurance rates. (But then, if you can afford to buy a home in this type of neighborhood, high home insurance premiums probably aren't a problem!)
Neighborhood #8: Ethnic
Found near downtown in major metro areas, ethnic neighborhoods consist of large populations of people of similar ethnic origin living in small spaces. Though housing is affordable and cuisine can be interesting here, living in this type of neighborhood if you're not of common ethnicity can make you feel like an outsider. Many residents living here are low-income, blue-collar workers; still, ethnic communities are often close-knit. Crime can be a problem, but insurance rates depend on each neighborhood and the problems it faces individually.
Neighborhood #9: Resort
Sunbelt and coastal cities made up of affluent and active adults and seniors who love the outdoor lifestyle is what you'll find in resort neighborhoods. The epitome of suburban and usually set in scenic places where the climate is temperate, these areas attract mostly mature residents. Usually well patrolled and secure, homeowners insurance rates for homes in these regions tend to run high—but only because of replacement expense. However, crime rates are generally low here, and many people aspire to move here, trading higher insurance rates for relaxation and a sense of security.
Neighborhood #10: Golf
Subdivisions containing new homes and golf courses entice many families, retirees and golf fanatics. With amenities galore and upscale homes, money usually isn't an object for those who choose to live in a primarily golfing community. Secure and often secluded, these types of neighborhoods are often gated and protected, which reduces crime and home insurance rates. Again, homes here are expensive, and replacement costs high.
Neighborhood #11: Retirement
Also in coastal and Sunbelt cities, homes in retirement communities tend to be small, low-maintenance apartments and condos. With lots of organized activities, neighborhoods like these tend to consist of empty nesters and single seniors looking for companionship. Because residents tend to be older, neighborhoods safe and quiet, and homes small and affordable, those living in retirement communities pay less than average for home insurance—and stay safer.
Neighborhood #12: Rural
Suburban to the core, some people enjoy the peacefulness that living in rural areas brings. Existing miles from the city—and its pollution, noise and crime—rural residents have lots of space, plenty of room to spread out, and lower home insurance rates than average. However, being so far from everything comes at a price: they wind up spending more time on the road and less time relishing their rural neighborhoods.
Learn about Your 'Hood
Before you buy a home in a new neighborhood, know what to expect when you get there—including homeowners insurance rates. Then make the most informed decision possible, and enjoy your new digs!