If you're a New Mexico resident looking for insurance, you're in the right place. We've compiled all the info you need to help you find home, auto, life, health or long term care insurance right here on this page.
We recommend you read it over, contact the New Mexico Division of Insurance at (505) 827-4601 with any questions, and let us help you find the coverage you need today.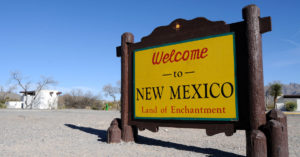 Auto insurance provides you with a valuable safety net in the event of an accident. It protects you from being held responsible for others' losses, which can be a financially devastating occurrence.
Many New Mexico residents don't realize how costly going without auto insurance can be—until they are involved in an accident and their home, savings, future wages and other assets are seized to cover the cost of related car repairs, medical bills and lawsuits.
Car insurance provides you with liability protection, which pays for the other driver's expenses when you are at fault in an accident.
Liability insurance must be purchased and maintained in the following amounts:
* $25,000 per person
* $50,000 per accident
* $10,000 property damage
However, keep in mind that these insurance amounts are only minimum guidelines. Most insurers recommend you carry additional insurance to further protect yourself from additional expense or suit due to accidents.
You will not even be able to register your vehicle without purchasing auto insurance. So make sure you purchase at least the above amounts before you get behind the wheel.
Physical damage insurance, which pays for your own losses and damages, is also available in the form of comprehensive or collision policies. Although these are not required by state law, your lender or leasing company may require you to add them to your auto insurance policy.
Some insurance companies may be willing to offer you discounts based on the following factors:
Driving habits
Past payment or claims history
Multiple policies with the same insurer
Taking a defense driving course
Keeping your annual mileage low
Safety or anti-theft devices installed in your vehicle
According to a recent mid-western research firm, New Mexicans are enjoying lower health insurance rates than most other areas of the country. Before purchasing your individual health insurance plan, be sure you understand what benefits are included in your plan and choose the policy that offers the greatest coverage at the lowest rates.
Insurers are free to turn you down for health insurance due to your health status. If you cannot afford health insurance, be sure to look into the following programs:
New Mexico Medicaid offers free and discounted health coverage for expectant mothers, families, mature adults and the disabled.
New Mexi Kids provides health coverage for uninsured children under the age of 19 who are not eligible for Medicaid. Benefits of New Mexi kids include hospital and physician care, prescription drugs, vision and dental care.
The New Mexico Breast and Cervical Cancer Early Detection Program (BCC) provides screening for breast and/or cervical cancer. Women diagnosed through the program may be eligible for treatment through New Mexico Medicaid. For those not eligible for Medicaid, assistance may be provided through other programs, such as the Anita Salas Memorial Fund.  
Most health insurance policies are guaranteed renewable in your state, which means that your coverage cannot be cancelled if you get sick. For more information, contact the New Mexico Division of Insurance (number at top).
A typical homeowners insurance policy consists of four facets:
Coverage of your dwelling and additional structures on your property
Coverage of your personal items and contents of your home
Reimbursement for additional living costs if your home becomes uninhabitable due to damage or loss
Personal liability to protect you from claims or lawsuits if someone is injured on your property
The two most common forms of home insurance in your state are known as Broad HO-2 and Special HO-3.
Broad HO-2 is a basic form of insurance which provides protection against 16 perils, some of which include fire, smoke, lightning, civil unrest, vandalism and weight of snow and ice.
Special HO-3 is the most common form.  It protects your home against all perils except flood and earthquake.
It is important to note that there may be other forms of home coverage more suitable for your needs. Be sure to discuss your needs with your agent to ensure that you purchase the right one for your abode.
Also, New Mexico law requires a 10 percent discount be given when you install an electric burglar alarm in your home. It also requires a five percent discount be given if you have iron bars on all doors and windows in your home.
Other money-saving tips include:
Raising your deductible
Insuring your home for its replacement value
Reviewing your policy to avoid paying for items you no longer need insured
Shopping around for the best policy and the best price
Essentially, your life insurance contract states that in exchange for paying the premiums, the insurance company will provide a certain amount of money to your beneficiaries in the event of your death.
These funds provide financial compensation for any lost wages resulting from your death. Your loved ones may use the proceeds for necessities such as:
Final expenses (funeral and burial costs)
Paying off debt
Mortgage payments
College tuition
Retirement funds
It is for these reasons that a life insurance plan should be incorporated into your long-term strategy for financial security. But how can you know if you really need it?
Generally, you should consider purchasing life insurance if you:
Have a spouse or partner
Support dependants
Financially provide for aging relatives
Own a large estate
Own a business
By looking at the list above, it would appear that your life insurance needs depend on who counts on you financially. But single folks should not be left out of the mix, either.
If you're single, you may consider buying life insurance if you:
Want to absolve loved ones of paying for your last expenses
Plan on getting married or having children
Have aging or ill parents
Want to leave money to a favorite charitable organization
What this shows us is that the need for life insurance differs from person to person. Be sure to discuss your needs with an agent before purchasing your policy.