Crawford Frazer
Insurance fraud has been keeping New York law enforcement busy this year. In March 2011, the State of New York Insurance Department released its annual report about what the state's Frauds Bureau has been up to: investigating fraud and uncovering shameful scams.
The big picture of New York Insurance fraud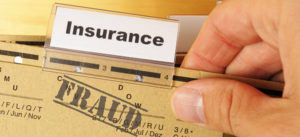 Although insurance fraud is on the rise nationwide, New York state seems to provide a particularly inviting environment for it. It's a no-fault auto insurance state, which, according to the National Insurance Crime Bureau (NICB), provides "the path of least resistance" for towing fraud, staged accidents, glass claims fraud and fake health insurance claims. The Big Apple seems to have the biggest problems. NICB received more than 7,000 questionable claims referrals in 2010 — and 57 percent of them were from New York City.
New York's Frauds Bureau, which has chapters around the state, is fighting back. According to the Insurance Department's report:
There were 1,236 new fraud cases opened for investigation in 2010.
Investigations conducted by Frauds Bureau staff resulted in 668 arrests and 449 convictions in 2010.
Court-ordered restitution as a result of Frauds Bureau criminal investigations rose 29 percent to $6.6 million between 2009 and 2010.
Total arrests for the Bureau's Auto Unit rose 15 percent in 2010.
The gritty details
During its investigations over the past year, the Frauds Bureau unearthed some shocking crimes.
Nonexistent workers' compensation: After telling employees they needed to pay him money so he could buy workers' compensation insurance, a Suffolk County businessman simply pocketed more than $50,000.
Worker's comp fraud: A trucking company underreported its payroll by more than $2.2 million over three years to avoid paying workers' compensation premiums.
Fake claims: Insurance company employees got in on the act, too. A former senior claims specialist for Progressive reopened cases and made fake claims for $80,000.
Arson: A liquor store owner was accused of arson and insurance fraud. Police found him outside his burning store with his hands bound, and he reported that robbers had set the store ablaze. Further investigations revealed that his store was in financial ruin and his building was in foreclosure.
Owner give-up: A Brooklyn man was arrested for setting his own car on fire to get the insurance payout.
Inflated health insurance claims: A Queens chiropractor promised a patient a kickback if the patient agreed to lie about injuries so that the chiropractor could file fake health insurance claims. The chiropractor was caught; the "patient" was really an undercover investigator.