If you're a North Dakota resident looking for insurance, you're in the right place. We've compiled all the info you need to help you find home, auto, life, health or long term care insurance right here on this page.
We recommend you read it over, contact the North Dakota Insurance Department at (701) 328-2440 with any questions, and let us help you find the coverage you need today.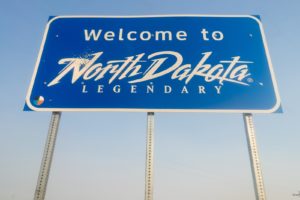 North Dakota motorists must carry bodily injury liability, property damage liability and uninsured/underinsured motorist coverage in at least the minimum state-required amounts.
Bodily injury liability provides compensation for other motorists you injure in an auto accident. The state-required minimum amounts are $25,000 per person and $50,000 per accident.
Similarly, property damage liability provides compensation for damage you cause another motorist's car resulting from an auto accident. The minimum amount of coverage required by the state for this is $25,000.
Uninsured/underinsured motorist coverage supplements the liability coverage an uninsured motorist should have, but doesn't, to compensate for damages. Therefore, the minimum amounts for uninsured and underinsured motorist coverage are the same as the minimum amounts for bodily injury liability: $25,000 per person and $50,000 per accident.
There are also other forms of coverage you may want to consider adding to your policy to cover all kinds of damage to your own car. Collision coverage may be incorporated to cover any damages resulting from a collision with another car. Many lenders will require this coverage if you have borrowed money to purchase your automobile. Comprehensive coverage pays for damages resulting from non-accident related events, such as hail, fire, flood, and theft or vandalism.
Keep in mind that adding these coverages will increase your premium, so be sure you can afford each one you choose before signing on the dotted line.
If you're unable to get insured because of your driving record, you may be eligible to purchase coverage under the North Dakota Automobile Insurance Plan. This places you in a high-risk pool of applicants which is evenly distributed amongst licensed insurers in your state. The idea is to provide high-risk drivers like you with insurance, while remaining fair to the insurers that must cover you.
High-risk coverage like this brings with it more expensive premiums, and should therefore only be considered as a last resort.
When applying for individual health insurance, your coverage may be determined by your health status. This means companies are free to turn you down, charge you more or limit your benefits if you have a condition that requires ongoing treatment.
The good news is that there are statutes in place to help you get and keep health insurance.
If you are eligible for an individual plan, the insurance company must offer you a basic or standard health plan. Essentially, the benefits of these plans do not vary from company to company, making it easy for you to shop for the best deal.
Guaranteed renewability also protects you by prohibiting the cancellation of your health insurance just because you get sick. Closely related, the guaranteed issue states that small business owners cannot be turned down when purchasing group coverage on account of their group's health status.
If you are ineligible for group coverage and have been turned down for individual health insurance, you may be qualified to receive coverage though the Comprehensive Health Association of North Dakota (CHAND). Your coverage under CHAND is renewable as long as you reside in the state, pay your premiums and meet other, ongoing requirements.
If you are unable to afford health insurance for you or your family members, it may be worth looking into the following programs:
The abovementioned CHAND program is available for those who have been denied coverage. You may also qualify for CHAND if you have been given restricted coverage or have been placed in a high-risk category because of a pre-existing condition.
North Dakota Medicaid provides health coverage for families, pregnant women, disabled and elderly individuals with low incomes. Applicants must meet state and federal poverty guidelines for assistance.
The Women's Way Program is designed for uninsured or underinsured women in need of breast and cervical cancer screening. Qualified women ages 18-64 may receive free mammograms, pap, pelvic and breast exams. Other tests may also be covered. Women that are diagnosed with cancer through Women's Way may receive treatment under North Dakota Medicaid.
Keep your health care costs low by employing the following tips from your state's insurance department:
Take Care—Improving your health will keep you away from the doctor and keep money in your pocket.
Take Advantage—Many businesses and schools offer free health clinics and screenings. You can also benefit by attending health fairs and practicing self-examination.
Save Emergencies for the ER—A trip to the ER can cost two to three times more than an office visit with your physician.
Buy Generic—If you're able, buying generic medication can save you up to 90 percent on prescription drug costs.
In North Dakota, there are two main types of homeowners insurance to choose from. A named peril policy provides coverage for a specific list of events, and an open peril policy provides coverage for all events except those expressly named in the exclusion clause.
The latter likely costs more, but protects your home against more events.
The two kinds of named peril policies include:
Basic Coverage Perils: Covers fire, lightening, windstorm, hail, explosion, riot, or civil commotion, aircraft, vehicles, smoke, vandalism and theft.
Broad Coverage Perils: Covers all basic perils, as well as volcanic eruption, falling objects, weight of snow, snow or sleet, collapse of building, accidental discharge of water or steam, and sudden or accidental damage from an artificially generated electrical current.
As a homeowner, you have several options for home insurance. Although insurers may call these policies by different names, they offer similar coverage to those described below.
Broad Policy (HO-2): This insures your home against loss or damage caused by broad coverage perils.
Special Policy (HO-3): The most popular plan, the special policy insures your home against broad coverage perils other than those named in the exclusion clause.
Comprehensive Policy (HO-3/HO15 or HO-5): This is a more expensive and less widely offered policy that provides the broadest coverage for your home—against any event except those named in the exclusion clause.
Modified Coverage Policy (HO-4): There are certain standards that homes must meet in order to qualify for most types of insurance plans. However, if you live in an older home or one that doesn't comply with those requirements, this type of policy may be for you. It insures your home against only the basic perils, returning your home to an inhabitable condition (not necessarily to its condition prior to the event).
If you are a tenant or condo owner, you are vulnerable to the same types of events that you would be in a home and deserve coverage that will protect your belongings as well.
You may choose from:
Tenants/Renters Policy (HO-4): This protects your personal property against the broad coverage perils. Like homeowners policies, it pays any medical expense, living expense and liability coverage.
Condominium Owners' Policy (HO-6): Because in most cases the condominium association owns the building, this type of insurance will cover the part of the building you own—your condo. It also insures any additions you've made. Like a homeowners policy, it pays any medical expense, living expense and liability coverage.
What's covered by your policy depends on the type you've chosen. It's important to remember that named peril policies only cover the basic or broad perils listed. The more comprehensive open peril policy covers anything except those things specifically excluded.
Deciding what type and how much life insurance you need is sometimes difficult. But learning the basics and how to apply them can make this complex decision much easier.
We've provided a few key terms to help you understand your choices below. We hope this increases your understanding and helps you analyze your own life insurance needs prior to purchase.
Term insurance
The simplest form of life insurance, this coverage is purchased for a specific price for a specified period of time. If you die while the policy is in effect, your beneficiary receives the policy's value. Renewing the policy at the end of the term may cause your premiums to go up. No investment component is involved.
Whole life insurance
You purchase whole life insurance to cover you during your "whole life," not during a set term, as with term insurance. Premiums remain level throughout the life of the policy, and your insurer invests a portion of your premium payments. These investments can sometimes bring you considerable financial return.
Universal life insurance
Universal life insurance allows you to pay your North Dakota life insurance premiums, plus an amount you would like to invest. Your insurance company decides where to invest the surplus (generally bonds and mortgages), and it places your investment and returns into a cash-value account. You can then either use this account to pay your premiums, or you can allow it to build in value over time.
Variable life insurance
Similar to universal life, variable life insurance allows you to choose your own investments over and above your premium payments. This investment selection is usually more varied than with universal life, and often includes stocks. As with a universal policy, the return on your investment can pay your life insurance premiums, or can build cash value in the account.
Now that you have a basic understand of your options, we hope you'll avoid these seven most common purchasing mistakes:
Not understanding that term life insurance is only temporary
Choosing term life simply because it's cheap
Buying coverage based on a set formula (everyone's needs vary)
Insuring young children (not necessary, as no one is depending on their income)
Not doing your homework regarding an insurer's stability and service record
Doing business with an agent you either don't like or don't trust—or both
Failing to review your policy at least yearly, and adjust it w