If you're an Oklahoma resident looking for insurance, you're in the right place. We've compiled all the info you need to help you find home, auto, life, health or long term care insurance right here on this page.
We recommend you read it over, contact the Oklahoma Insurance Department at (405) 521-2828 with any questions, and let us help you find the coverage you need today.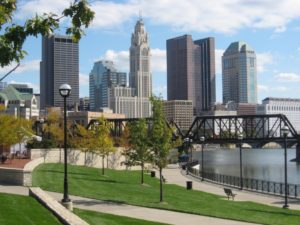 Oklahoma is a tort state, which means drivers are held financially responsible for the property damage and personal injury they cause. The degree of fault documented by each driver's insurance company determines the amount of money each party must contribute toward the resulting costs. This is known as comparative negligence.
State law requires car owners and drivers to carry either an owner's policy or a non-owner's policy in order to prevent any lapse in car insurance coverage. However, the state requires only liability coverage, which protects you against costs incurred when you damage or injure someone else or their property.
Minimum amounts you must carry include $25,000 bodily injury per person; $50,000 per accident and $25,000 property damage. However, most insurers strongly recommend you carry more than these basic minimums. With medical and automotive repair costs skyrocketing, a stay in the
If you're involved in an accident with an uninsured or underinsured motorist, you'll need additional coverage to take up the slack, providing you monetary provision where the other driver's insurance does not.  That's where other options come in, such as uninsured motorist (UM) and underinsured motorist (UIM). The two come packaged together in this state, and may be purchased in either an amount equal to, or less than, the minimum level of bodily injury coverage mandated by the state.
Insurance rates must equitably reflect differences in expected losses and expenses. Since statistics show that more young male than female drivers are involved in accidents resulting in auto insurance claims, they're a higher risk to insurers. Although the gap between these two groups is closing, for now young males are still more likely to pay more for car insurance.
The best way to go about finding a health insurance policy tailored to your needs is to get several quotes and make your own comparisons.
You may submit an application to any Oklahoma health insurance company, but any one of them may lawfully refuse your application. Therefore, it pays to apply with several insurers before you buy.
If you have a preexisting (or previously diagnosed) medical condition, finding a medical insurance policy which covers its treatment may present a challenge, as there are no limits on the amount of time an insurance company may exclude you from related medical coverage. In fact, you may be permanently excluded from receiving coverage for a malady.
But take heart; once you find an Oklahoma health insurance company willing to insure you, that company must honor your request for continued health insurance coverage thereafter.
So how do you find the right health insurance plan from the right insurer with the coverage you need? Let's examine this further.
Deciding which health insurance plan is right for you means knowing what to look for and what to ask. Your goal is to find the one with the greatest flexibility and the most benefits for the lowest cost.
There is no such thing as a "standard" insurance plan. So ask the following questions of each insurance provider to find out what you need to know:
What co-pays, deductibles and co-insurance payments should I expect?
Can I choose my own providers, or do I have to see certain ones?
What specific services does the plan cover?
Does the plan cover my family or just me?
Is my pre-existing condition covered? If so, is there a waiting period?
What kind of reputation does your company have in the local health insurance industry?
A good health plan contains several types of coverage. These items may be covered at different levels depending on the type of plan, but all good plans contain:
Hospital expense insurance: Pays your room, board and related hospital expenses
Surgical expense insurance: Covers surgeon's fees and related surgery costs
Physicians' expense insurance: Pays for doctors' visits
Major medical insurance: Broad coverage with a high maximum benefit designed to protect you against loss from catastrophic illness or injury.
Additional benefits insurers may provide include:
Prescription drugs
Mental health benefits
Preventive care
Vision benefits
Maternity care
Before you decide which plan to go with, discuss these coverage options with both your doctor and your insurance provider to make sure the coverage vital to you is included in your policy and will be there when you need it.
Homeowners insurance protects you from financial loss as a result of disaster such as those caused by storm, fire and theft. A standard policy protects your home and the items you keep in it.
The state does not require its residents to carry homeowners insurance. However, if you have borrowed money to finance the purchase of your home, you may be required to take out an insurance policy until your loan is paid off. This protects your lender's investment in the event of a disaster.
Once your loan is paid off you may cancel your policy, though doing so puts your home at great risk should a disaster occur.
There are four basic types of home insurance available in your state:
HO-1: This basic policy offers protects your dwelling and personal property from 11 perils, some of which include fire and lightning; windstorm or hail; riot or civil misconduct and damage caused by vehicle or aircraft.
HO-2: This is a basic "plus" policy which offers protection from the basic 11 perils plus six more. Some of these include weight of snow or ice; falling objects; electrical damage and water damage from home appliances.
HO-3: This is an extended policy for special homeowner items. It provides protection from 17 perils not cited in your policy with the exception of earthquake, war and nuclear accident.
HO-8: This is a common policy for older homes and offers protection from 11 perils. An HO-8 policy differs from a basic policy because it covers repairs or actual cash values, excluding rebuilding costs. If you own a home with special features (such as historic or architectural), you may want to consider this plan as it adds to your home's replacement cost.
If you have tried obtaining home insurance and have been turned down by at least two companies, you can contact the Oklahoma Market Assistance Program (OK-MAP) for help. OK-MAP is a voluntary association of insurance companies that assist residents who need help in insuring their property.
Life insurance is sold by insurance companies to provide financial support for your dependents in the event of your death.
Unfortunately, there is no magic formula to determine how much coverage you need. In order to come up with a ballpark figure though, you will want to consider how much money is needed for the following:
Income Replacement—Your life insurance policy will help replenish the funds which may be lost if you die. It can also compensate for lost benefits, or be put toward retirement savings for the surviving spouse.
Pay off Debts and Long Term Obligations—Life insurance also helps pay last expenses, such as funeral and burial costs, estate tax and unpaid medical bills. Your survivors can also use your insurance proceeds to pay off a mortgage or fund college tuition.
Charitable Contributions—You may choose to donate the proceeds of your policy to a favorite charity or organization. Or, you may wish to set up a specialty foundation with the assets.
Once you have determined your needs, you need to figure out what assets you already have to put toward those needs. Such assets could include cash, savings, Social Security and pension monies. Once you have determined your assets, subtract that amount from your total expenses. This will give you an estimate of how much life insurance you need to protect your family.
The most common types of Oklahoma life insurance are term and whole life insurance.
Term Life
Quite simply, term life provides coverage for a specific period of time, or "term." Terms generally last anywhere from 1 to 30 years and must be renewed. Term life is the most popular form of life insurance because it is beneficial for covering expenses that will be alleviated with time, such as a car or school loan.
It is important to understand that term life insurance does not build cash value and only pays a death benefit if the insured dies during the specified term.
Whole Life
Whole life policies are also a good choice because they offer you lifelong protection. As long as you continue to pay the premiums, you remain covered under the whole life policy.
Whole life policies are primarily characterized by cash values and dividends. If your insurance policy builds cash value, you may borrow against it as you like. However, if you do not pay back what you have borrowed, your beneficiaries will receive a reduced death benefit.
It is important that you understand the facets of both forms of life insurance to make the right choice for your family.