New technology could make the roads safer for pedestrians, according to a recent report from the Insurance Institute for Highway Safety (IIHS).
Nearly 60,000 pedestrians were injured in car accidents in the United States in 2009, according to IIHS, and more than 4,300 were killed. The roads have become safer for drivers and passengers over past few decades, thanks to better vehicle design. Now, newer vehicles are being designed with safety features that protect not only those inside them — but pedestrians as well.
Technological strides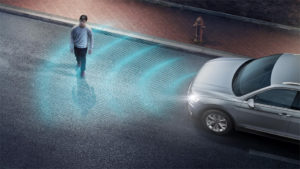 Nineteen vehicles released in 2011 will have a special kind of collision detection system known as "forward collision warning." Forward collision warning systems alert the driver if the car is about to collide with another vehicle — and even automatically brake the car if the driver doesn't respond. Newer systems, called "pedestrian detection systems," are being tailored to recognize people in a car's path as well.
The first pedestrian detection system became available in the United States in 2010 with Volvo's S60 sedan, according to IIHS. The system, now available on several of Volvo's models, uses sophisticated computer and radar technologies to identify pedestrians and discriminate them from other objects. This ability to discern pedestrians from, for example, mailboxes, was one of the most difficult parts of designing the system, according to a Volvo technical safety adviser cited in IIHS's report.
IIHS estimates that pedestrian detection systems could eliminate 39,000 crashes a year and prevent nearly 3,000 pedestrian deaths. In most fatal pedestrian crashes, the pedestrian is in plain sight in front of the car (as opposed to in a blind spot or behind the vehicle), according to IIHS. So, a pedestrian detection system would act as "an extra set of eyes," according to the report — and react swiftly when the driver does not.
Who pays for pedestrian accidents?
If the driver was at fault, his or her auto insurance company likely will be liable for significant costs, including the pedestrian's medical bills and lost wages. But, according to the Insurance Research Council, roughly one in seven drivers is uninsured.
For that reason, you might consider uninsured motorist/underinsured motorist (UM/UIM) coverage to protect yourself as a pedestrian. While your health insurance policy likely will pay for your accident-related medical bills, it won't pay for lost wages or legal costs if you go after the driver in court.
In addition to getting insurance coverage, pedestrians also can limit their risk by avoiding:
Busy intersections and roads.
Walking on roads at night.
"Walking under the influence" of drugs or alcohol.
In 2009, more than half of all pedestrian deaths occurred between the hours of 9 p.m. and 6 a.m. and involved pedestrians with a blood alcohol concentration higher than 0.08, according to IIHS.