Michele C. Hollow
Years ago, mainstream medical professionals looked suspiciously at alternative practitioners. Treatments for acupuncture, homeopathy and chiropractic therapies were not covered by most health insurance companies.
The same could be said for veterinary practices and pet health insurance companies; until recently, the majority of veterinarians and pet health insurers frowned on alternative medicine for pets. Those attitudes are changing.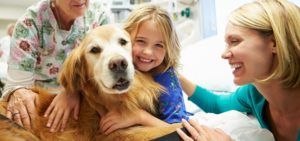 "Fifteen years ago, acupuncture was still kind of 'out there' and very few practices offered it," says Dr. Jessica Vogelsang, a San Diego veterinarian. "It's much more mainstream now, and even practitioners who do not provide it themselves can see the advantage it offers to pets with certain conditions.
"I'm seeing more and more insurance companies allowing this as part of their programs. Both insurance and alternative treatments have really taken off in the last decade, and I think they have sort of evolved together in terms of their prevalence in the pet-owning community."
According to a study from the American Pet Products Association, 62 percent of U.S. households have pets. Yet just 1 percent of pet owners carry health insurance for their pets.
Just like health insurance for people, pet insurance rates vary from company to company, and even within the same company. Bottom line: One size does not fit all when it comes to pet insurance, with premiums tied to a dog's or cat's health, age and breed. In most pet insurance plans, alternative treatments are covered and don't cost extra.
"Pet parents want more health care options … and alternative therapies do work," says Laura Bennett, co-founder and CEO of Embrace Pet Insurance. "I can't see why you wouldn't cover them."
Embrace first started covering alternative treatments in 2006. Under its definition of "alternative and complementary therapies," Embrace offers coverage for acupuncture, chiropractic treatment, hydrotherapy and physiotherapy. Veterinarians providing alternative and complementary therapies must be a registered member of one of these groups:
American Veterinary Chiropractic Association.
Academy of Veterinary Homeopathy.
American Academy of Veterinary Acupuncture.
American Association of Rehabilitation Veterinarians.
American Holistic Veterinary Medical Association.
Alternative treatments must be administered "under the care of a veterinarian," Bennett says. "We do this to prevent your local acupuncturist deciding to expand his or her skills to your dog or cat without the appropriate training."
Another pet health insurance company, Trupanion, offers coverage for acupuncture, physical therapy (including cold laser therapy) and hydrotherapy. "With more and more veterinarians offering these treatments, we want to give pet owners the opportunity to add this coverage to their policy," says Darryl Rawlings, CEO of Trupanion.
Protect Your Bubble, a longtime player in the United Kingdom's pet insurance industry and a newcomer to the U.S. market, even provides coverage for pets who suffer from separation anxiety.
Case studies
Tristan, a 2-year-old Afghan Hound who lives in Connecticut, was diagnosed earlier this year with osteochondritis dissecans – a joint condition. Embrace covered his physical therapy, laser therapy, acupuncture and chiropractic treatments.
When the condition was discovered, traditional doctors recommended surgery; however, a physical therapist suggested a month of rehab, so the dog initially underwent laser therapy and range-of-motion treatment. Also covered were subsequent physiotherapy, acupuncture and chiropractic sessions. Of the $4,700 in total claims, $3,600 was covered; items such as supplements, prescription drugs and wellness items weren't covered.
Maggie, a 9-year-old Golden Retriever from Florida, has been insured by Embrace since she was diagnosed with a degenerative joint disease in her shoulders and hips in 2008. She originally received massage therapy and injections of joint-treatment drug Adequan; cold laser therapy later was added. Total claims for Maggie's condition were $3,800, with $2,200 being paid out.