When it comes to buying individual life and health insurance, pre-existing and chronic health conditions like cancer, heart disease, emphysema—even pregnancy—can have a significant impact on your premiums.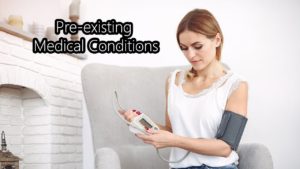 How Rates are Determined
Insurers look at a variety of factors when determining the risk to insure you. That is, life and health insurance companies pay close attention to your health status to gauge whether you'll fall seriously ill or pass away within a short time of purchasing the policy.
As a result, those with pre-existing health conditions or precarious medical histories may pay more for health or life insurance—or have trouble finding a policy all together.
Shopping Tips
While a pre-existing condition may narrow your individual insurance options, don't feel down and out. These tips can help you find the right health or life insurance policy to meet your needs.
Know your rights. Because insurance matters are regulated by each individual state, there may be certain resources and provisions in place to help you find and keep insurance coverage.
Try to find coverage under a group policy. Group coverage, such as that offered by your employer, tends to be more economical. Furthermore, if you choose to participate during open enrollment, you may not be required to undergo a medical exam.
Shop around. If group coverage isn't a feasible option for you, make sure to compare free life and health insurance quotes here on our site. This is the best way to find the right policy to meet your unique needs.
When buying term life insurance, make sure it's guaranteed renewable. Guaranteed renewability means that you have the option to renew your policy after the term ends. While your premium may increase as you age, if your policy is guaranteed renewable, you won't have to undergo a medical exam.
Just because you have a pre-existing condition doesn't mean you're uninsurable. And by getting all the facts, learning about the resources available to you, and comparing multiple quotes, you'll be able to find the best policy available.