Justin Stoltzfus
Slip-and-fall accidents in the shower are a serious risk. A federal Centers for Disease Control and Prevention study released in 2011 found that about 230,000 people go to emergency rooms each year for injuries sustained in a bathroom. Two-thirds of them were injured in showers or bathtubs. For homeowners, that presents a liability risk — if someone is injured in your home, you, or your home insurance company, pays.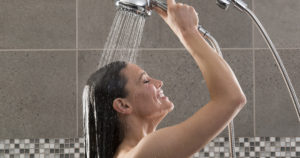 Getting covered
The liability coverage under your home insurance policy would cover you if a guest gets hurt in your shower. It's the same type of coverage that kicks in if your dog bites someone.
Your policy also may contain medical payments coverage, which automatically covers the medical bills of the injured person. If that person sues you anyway, your liability coverage would then pay for court costs, according to Farmers Insurance. If you're found negligent, your home insurance pays for any damages that you would otherwise have to pay.
Because lawsuits can get expensive, Farmers recommends also purchasing umbrella coverage, which would kick in once you've exhausted your policy's liability limits.
Assessing the risks
Certain groups of people are more likely to slip and fall in the shower or tub. About 43,000 children are injured in bathtubs and showers each year, according to a 2009 study from the Ohio State University College of Medicine; more than half of those injuries involved children under age 4.
In general, however, the risk of serious injury increases with age, according to the U.S. Department of Health and Human Services. And, if a senior falls in a shower, the consequences can be far more serious. A fall that might cause a bruise in a younger person could lead to broken bones in an older person. According to the National Institutes of Health, other groups that face a particularly high risk of shower falls include:
Seniors with limited mobility because of compromised joints.
People with muscles that have been weakened by aging or rehabilitation.
People with physical disabilities that affect movement.
Preventing shower falls
Given the potential for serious injuries and the possible financial consequences, it may be a good idea to evaluate the shower or tub in your home. Here are some fixes and renovations suggested by the National Institutes of Health and AARP:
Install non-slip mats inside a shower or tub, regardless of its size.
Use a non-skid bath mat to avoid slips when exiting or entering the tub.
Install single-lever faucets, which make adjusting the water temperature easier. Consider setting the temperature on your water heater no higher than 120 degrees to prevent burns.
Put a chair or bench inside the shower.
Install safety bars in bathrooms. Bars must be sturdy and well-enforced to support the weight of a person.
Consider installing a hand-held shower head, which makes it easier for people to remain seated while showering.
Consider replacing a bathtub with a shower that has a low lip. Stepping over the high walls of a bathtub can be difficult for seniors.