Nick DiUlio
Did you decide to quit smoking as a New Year's resolution? If so, your health insurance company may be there to help you kick the habit.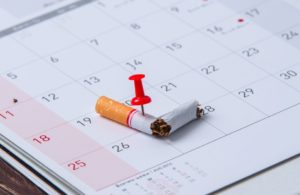 Not only is smoking a severe danger to your health, it's also expensive to both the smoker and his employer, which is one of the reasons quitting has become such a health care priority. According to the federal Centers for Disease Control and Prevention (CDC), men who smoke rack up $15,800 more in lifetime medical expenses and are absent from work four days more a year than non-smoking men. Likewise, women who smoke ring up $17,500 more in lifetime medical expenses and are absent from work two days more each year than non-smoking women.
Smoking is the leading preventable cause of death in the U.S. According to the CDC, smokers who quit will, on average, live longer and have fewer years living with disability.
And they may wind up paying less for health insurance. According to new federal mandates, insurers selling individual health insurance coverage and small group health insurance coverage in 2014 may charge smokers a 50 percent higher rate than they charge to non-smokers.
Who's quitting?
The good news is that more Americans than ever before are making an effort to stub out the butts. According to the CDC, about 45 million Americans smoked in 2012, and about 17 million of them will attempt to quit in 2013.
The bad news: Only about 1.3 million smokers (that's fewer than 8 percent) will succeed in kicking the habit.
And it's not just nicotine addiction that keeps smokers hooked. According to market research company Mintel, 60 percent of Americans who smoke or have quit before say, "It's hard to motivate myself to quit, because I enjoy it." At the same time, 60 percent say, "Health warnings about smoking scare me."
The confidence to quit is one of the greatest stumbling blocks for smokers looking to kick the habit, says Emily Krol, health and wellness analyst at Mintel. This is where quit-smoking products and programs can be most effective. They can provide healthy solutions and tips to help consumers develop confidence in their ability to stop smoking. To help with this, an increasing number of health insurance companies are picking up the tab.
Smoking and health care reform
When it was signed in 2010, the federal health care reform law required that any new health plan offer a host of counseling and wellness services — including quit-smoking treatments — without co-pays or deductibles. Medicare also was required to cover counseling sessions to help folks quit. As of January 2011, Medicare recipients now pay nothing for this benefit.
"This is all about recognizing that more needs to be done to improve wellness and prevent disease," says Will Shanley, a spokesman for health insurance company UnitedHealthcare.
In addition, nearly 80 percent of U.S. employers now offer workplace wellness programs, with some of them dangling financial incentives, Shanley says.
For example, starting in 2014, the health care reform law will enable employers to offer rewards of up to 30 percent off the cost of health care coverage if they participate in a wellness program. These may include participating in a smoking cessation group or meeting certain health benchmarks, such as a lower body mass index (BMI).
Shanley says some health plans also offer gift cards, premium reductions or direct financial contributions to health savings accounts for any employees who engage in wellness activities like online health assessments, health coaching programs or at-home health screenings.
For instance, UnitedHealthcare offers employers an incentive called Personal Rewards. The employer then passes this incentive on to all of its employees, who can earn up to $600 a year, or $1,200 a couple, for meeting certain health benchmarks such as living a tobacco-free lifestyle.
Some confusion
While federal health care reform requires health insurers to pay for quit-smoking programs and medication, there's still a lot of confusion about what is and isn't covered.
In 2012, research professor Mila Kofman of Georgetown University's Health Policy Institute studied 39 health insurance contracts. These contracts were between consumers and insurers for individual, small group and government employee policies in six states. The study, financed by the Campaign for Tobacco-Free Kids, found "significant variation in how private health insurance coverage works for tobacco cessation treatment."
For instance, some insurance contracts don't cover the cost of tobacco cessation at all. To make matters more complicated, some contracts have conflicting wording that makes the scope of the coverage unclear. Finally, many contracts are unclear about potential restrictions to accessing treatment.
According to Kofman, none of the 39 analyzed contracts did all of the following:
Stated clearly that quit-smoking treatment was a covered benefit.
Provided coverage for individual, group and phone counseling, and FDA-approved quit-smoking products like Chantix, nicotine patches and lozenges.
Provided quit-smoking treatments by approved insurance companies and don't require a copay.
Provided access to treatment without any restrictions, such as a medical necessity.
Kofman says consumers should not assume their health insurance is going to cover the cost of giving up smoking.
Ask the right questions
Kevin Lynch, assistant professor of insurance at The American College in Pennsylvania, says that if you want to give up smoking, you should ask your health insurance company a series of questions about coverage:
1. Are non-prescription nicotine replacement therapies covered? These include nicotine patches, gum and lozenges. Lynch says most health insurers won't cover those. If they are covered, ask whether there's a co-pay and whether you must undergo counseling in addition to treatment.
2. Are prescription drugs covered? These include inhalers, nasal sprays and medications. Also, if these are covered, how long will they be covered?
3. Is counseling covered? If so, will your insurance cover counseling by group, one-on-one, telephone, Internet or all of these methods?
Lynch says complementary therapies like acupuncture and hypnosis — which are meant to be used with other quit-smoking techniques — frequently aren't covered, "but it's worth asking anyway."
"If you plan to quit, take advantage of any incentives you may be offered," Lynch says. "You just need to know what they are."