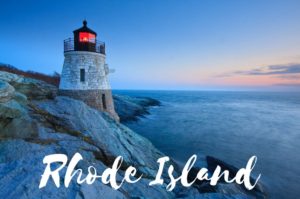 If you're a Rhode Island resident looking for insurance, you're in the right place. We've compiled all the info you need to help you find home, auto, life, health or long term care insurance right here on this page.
We recommend you read it over, contact the Rhode Island Insurance Division at (401) 462-9520 with any questions, and let us help you find the coverage you need today.
State law requires that you carry only bodily injury and property damage coverage on your auto insurance policy. These are both liability insurance, which covers any and all damage you cause others and their property when you are at fault in an accident.
Your state requires you to purchase at least the following amounts of liability insurance:
Bodily injury protection of $25,000 per person and $50,000 per accident
Property damage coverage of $25,000
Car insurance experts strongly recommend you insure yourself and your vehicle for higher coverage amounts than these minimums. If you are involved in an accident and do not have sufficient coverage, your auto insurance provider will pay only up to the limits of your policy—and you will be held responsible for the remainder.
State insurers group applicants together with others who have similar risk characteristics in order to determine premiums. Then all group members pay the same premiums for their coverage. Those groups presenting the lowest risk of claims are charged the lowest premiums, while those with higher claims risk pay more.
So how can you keep your claims risk low and get the best plan at the most affordable price? Try these tips on for size:
Maintain a good driving record, with as few accidents and tickets as possible
Ask your insurer about discounts that can help lower your premium
Buy more than one type of insurance policy from the same insurer
Set your deductible as high as you can afford
Keep your credit rating high
Check out insurance rates before you purchase a new car
While your insurance options are somewhat dependent on your health status, there are provisions in place to help you obtain and maintain health insurance coverage in your state.
For instance, if you have had at least 12 months of prior health coverage without a gap, insurers selling individual policies must offer you a choice of at least two plans—regardless of your health status.
If you are purchasing coverage for a small group of employees, you cannot be turned down because of your group's health status. This is known as the guaranteed issue.
Benefits vary from policy to policy, and you will want to ask your insurance agent what your plan covers before signing on the dotted line. Doing so will ensure that you've selected the right policy for you, and will prevent any unpleasant surprises down the road.
If you cannot afford medical insurance in the normal market, there are a variety of programs available to help you receive the care you need:
Low-income families, pregnant women, elderly and disabled individuals may be eligible for health care through the Rhode Island Medical Assistance Program. This program may also cover you if you cannot afford the coverage offered by your employer.
Rite Care is a managed care program operated by Medicaid, and provides coverage to eligible, uninsured expectant mothers, parents and children up to age 19.
Rite Share is another Medicaid-run program that helps low-income families obtain health coverage through a spouse's employer. Qualified families may receive full coverage through Rite Share, including all co-payments for physician and hospital visits.
The Rhode Island Cancer Screening Program provides free screening for residents who qualify. Women who are diagnosed with breast or cervical cancer may be eligible for treatment through Medicaid.
Guaranteed renewablilty ensures that your insurance policy cannot be cancelled if you get sick. Your coverage may only be terminated if you fail to pay the premiums, or if you are caught defrauding your insurance company.
Home insurance in RI is a package policy that provides financial coverage for damage caused to your home, as well as any legal action taken against you by someone who has injured themselves on your property.
The state does not require residents to carry this type of insurance. However, if you have taken out a mortgage for your home, your lender will most likely require you to buy some form of insurance protection to guard their investment in case your home is destroyed or damaged.
After you pay off your mortgage, you may cancel your home insurance policy—but doing so will put your home at great risk.
The three most common forms of insurance protection for your home are Basic, Broad and Special.
Basic—protects your dwelling from 11 basic perils including fire or lightning, hail or windstorm and theft or vandalism.
Broad—an extended form of basic coverage; protects your dwelling from the basic 11 perils plus six more. Additional perils include building collapse, damage from weight of snow or ice and water damage from household appliances.
Special—the most common form of Rhode Island homeowner's insurance. It protects your dwelling from all perils with the exceptions of earthquakes and flood.
According to the Insurance Information Institute (I.I.I.), your homeowners premium will be determined largely by the following factors:
The square footage of your house and additional structures on your property
The building costs in your area
The materials your dwelling is made out of
The amount of crime in your neighborhood
The likelihood of natural disasters, such as flood and hurricane
How far your home is from a water source or fire department
If you financially support or contribute to the well-being of loved ones, you should strongly consider purchasing life insurance. This is because your wages will be lost with your death, leaving your family to compensate. A life insurance policy, on the other hand, would provide your beneficiaries funds to maintain their standard of living after you die.
If you don't currently have dependents, you will still want to consider a life insurance purchase. Perhaps you plan on getting married or starting a family, or maybe you'd like to absolve your relatives and friends of your last expenses, or any debt you have, such as car or student loans.
The bottom line is that life insurance offers a wealth of financial protection to those named in your policy, and should be considered at any age for that very reason.
In most instances, beneficiaries use the proceeds policy to pay for life's necessities, including:
Funeral and burial costs
Estate tax
Mortgage payments
Child care
College tuition
Retirement funds for the surviving spouse
You may also use your life insurance proceeds to start a charitable foundation or contribute to an existing organization.
Essentially, life insurance ensures that your family's emotional stress is not compounded by financial stress after you die—which can make all the difference in the world to a grieving family.
Your choices in life insurance include:
Term life insurance, which protects you for a specified amount of time, or term. This means that a death benefit will only be paid if you die during your policy's term.  Term life policies generally carry lower premiums, but you may pay more if you choose to renew it. Term policies do not build cash value.
Whole life insurance, which protects you for the duration of your life, and often includes a guaranteed death benefit. Whole life insurance carries higher premiums than a term policy; however a whole life policy builds cash value over time.
The type of plan you purchase will depend on your needs, as well as what you can afford to pay. Discussing your needs with an agent will help you determine which policy is better for you.