For the elderly, the rising cost of health care is a real concern. In fact, many seniors today find it difficult to get the right health insurance coverage, often simply going without medical care—and endangering their health and lives in the process.
But it doesn't have to be that way.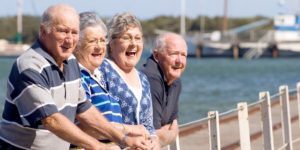 How to Find It
You may want a supplemental health policy to complement your Medicare coverage. InsureMe can help.
We have an established network of agents in your area who can help you find low cost coverage that fits your budget. Not only that, but many of our agents actually specialize in providing health insurance for the elderly and near elderly.
Money-Saving Tips
If you're an elderly adult looking for ways to save (who isn't?), take advantage of these money-saving tips compliments of AARP. They'll help ease the financial burden and stress of finding and paying for medical care.
For Doctors' Visits:
Attend community health fairs. This type of routine screening may save you a doctor's visit completely.
If there's a medical school in your hometown, take advantage of low cost clinics. According to experts, the quality of care received there is usually excellent.
Consider alternative forms of treatment for chronic problems, such as back pain or stress-related illness. Acupuncture, massage therapy and other alternative treatments are sometimes less expensive than traditional medical care.
Look for in-store clinics at large pharmacies and retail stores. They don't require an appointment and often cost less than a visit to your doctor's office.
Talk to a doctor for free by phone. Call your own doctor for help or advice. If that doesn't work, consider calling TelaDoc. Here you can talk to real doctors quickly and easily. Cost: $35, plus an $18 registration fee and a small monthly fee.
Forgo a doctor's visit and visit a nurse practitioner instead. They typically spend more time with you, charge you less and diagnose problems just as well.
For Medications:
Comparison shop. Check online for great prices, or compare one store's prices to another's. You could save a bundle!
Consider generic or cheaper brands. Let your doctor know you need to economize. He or she may even be able to offer you free samples.
Buy store brands. There's usually no difference between them and name brands—and store brands are much cheaper.
Ask your pharmacist for drug alternatives. Even if there's no generic brand for a particular medication, you may be able to use a combination of other drugs to achieve the same desired effect.
Ask your doctor if it's safe to split. Most tablets and pills can be split in half, saving you a substantial amount of money on prescriptions.
Apply for free or low cost drugs through your state or the manufacturer. The Partnership for Prescription Assistance, sponsored by Johnson & Johnson, can help you learn if you qualify.
Remember, the best way to get the medical care you need is with a good senior health insurance policy. But by combining the right insurance with these cost-saving strategies, you can help insure a long and thriving life.