Kathryn Hawkins
If you're not prepared when a severe storm or other weather emergency is on its way, you could find yourself in big trouble.
Depending on the severity of the situation, you could end up in the dark without food or water after a power outage, get caught on the road in a dangerous snowstorm, or even miss evacuation orders to leave your home.
Unfortunately, most Americans don't do enough to prepare for such events, even though they are becoming increasingly common. A recent survey of 1,000 policyholders by Allstate found that although 21 percent of respondents had been impacted by natural disasters, less than half of all respondents had made evacuation plans in the event of future natural disasters, and 61 percent had not prepared emergency kits.
By taking the proper precautions now, and making plans that will help you cope in the event of a weather-related emergency, you can minimize the damage it causes.
Download these mobile apps so that you'll be able to safely prepare for any severe weather events before they happen—and stay connected to receive relevant information after a natural disaster takes place.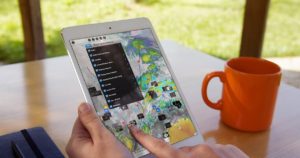 Red Cross Tornado App
Available on: Apple, Android
Cost: Free
If you live in a tornado-prone area, this free app from the Red Cross can help you stay on top of possible tornados headed your way. The app sends out a text message when there's a tornado forecast for your region. It also provides you with a detailed list of planning instructions to make sure that you and your home are well-prepared if disaster strikes.
The app permits you to send a message to your contacts to let them know that you are safe, and helps you find out which shelters are open. And if you're stuck in the dark, the app turns your phone into a flashlight or strobe to help you alert people to your presence.
Red Cross Hurricane App
Available on: Apple, Android
Cost: Free
During the 2012 hurricane season, there were 10 hurricanes on the Atlantic seaboard—tied as the third most active hurricane season in history. If you're worried that the trend will repeat when hurricane season starts this year, this app will help you prepare. The app sends alerts when hurricanes or tropical storms are forecast in your region, as well as any locations you've saved. You can also read instructions for what to do when a hurricane hits, even if you're offline. And, like the tornado app, you can easily broadcast an "I'm safe" message to friends and family.
Red Cross Earthquake App
Available on: Apple, Android
Cost: Free
It's impossible to know when an earthquake is going to occur—and the effect can be devastating. This app can help by letting you know as soon as an earthquake occurs, and how much your region – as well as any other locations you have bookmarked – was impacted by the quake. You can search for open shelters, and send an alert to your contacts or social media networks to confirm your safety. The app also provides instructions for creating an emergency kit and an emergency plan, which you can access even if you lose access to the Internet.
Storm Shield Weather Radio
Available on: Apple, Android
Cost: Free
Any time the National Weather Service issues a severe-weather alert for your area, you'll instantly receive both push and audio alerts if you've got this app installed. You can receive notifications for up to five locations—a great way to keep track of whether any of your loved ones could be in harm's way. The app can also use GPS tracking to pinpoint exactly where you are, and let you know whether any storms might be approaching.
MyWARN
Available on: Apple, Android
Cost: $9.99
MyWARN is a GPS-tracking app that will send you an alert if a severe-weather forecast occurs in your region. You can set the app to only alert you to specific types of weather warnings, or receive all warnings just moments after they have been issued by the National Weather Service.
iMap Weather Radio
Available on: Apple, Android
Cost: $9.99
This app lets you browse detailed weather maps to see what weather-related events are going on all across the United States, and sends you an alert if there's something brewing in your region. The app has a GPS-tracking "follow me" feature that will keep you informed of storms and other severe weather in the forecast while you are driving, and even features custom notices from local meteorologists and videos from local news organizations that have partnered with iMap.