It's a situation that many homeowners fear. A visitor trips down your stairs, or a repair person slips on the ice on your front porch. Such "slip and fall" accidents are legally and financially your responsibility if they result from your negligence — and you could be out hundreds of thousands of dollars once all the medical bills and court costs (if you're sued) are tallied.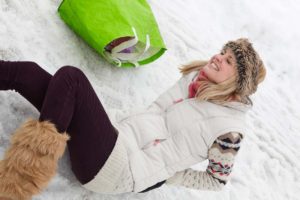 Liability coverage
Liability insurance protects you if someone gets hurt in your property. Most standard home insurance policies include about $100,000 in liability coverage, according to the Insurance Information Institute. To prevent lawsuits, many policies also contain what's called no-fault medical coverage (usually between $1,000 and $5,000 of coverage, according to the institute). No-fault medical coverage allows the injured person to file claims with your insurer to pay medical bills instead of suing you.
Given the fact that many personal injury lawsuits result in costs of far more than $100,000, according to the Insurance Information Institute, you may want to raise your coverage limits by paying extra in premiums. Or, according to Farmers Insurance, you can get what's known as personal liability umbrella coverage to provide you a "cushion" if the total costs from the accident exceed the limits of your liability coverage. According to the institute, $1 million in umbrella coverage costs about $200 to $300 a year.
Preventing accidents
According to Farmers Insurance, homeowners can find themselves on the wrong end of a lawsuit if it turns out they were negligent. Homeowners have a basic duty to protect those who are on their property. If they fail to "exercise a proper degree of care," according to Farmers, they are liable for the resulting injuries.
So, in addition to getting adequate home insurance coverage, you may want to consider making your home safer and preventing accidents from happening in the first place. Here are some ideas from Farmers:
Make sure all stairways are well-lit.
Before having visitors, make sure all floors are clear of toys and other objects that can be tripped over.
If rugs don't have slip-resistant backing, add double-sided tape to them.
Place a no-slip mat in your shower or bathtub.
Fix loose or uneven floorboards, cracks in staircases and slippery spots.
Add visible decorations to sliding glass doors to prevent people from walking into them.
Clean up spilled water and grease immediately.
Purchase nighttime lighting for bedrooms, bathrooms and hallways if you're having overnight guests.
Remove debris like loose stones and fallen tree branches from your yard.
Be sure to schedule time to walk around your property and identify potential danger areas — then fix them yourself or hire an expert to do so.