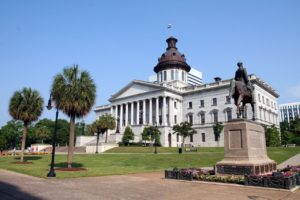 If you're a South Carolina resident looking for insurance, you're in the right place. We've compiled all the info you need to help you find home, auto, life, health or long term care insurance right here on this page.
We recommend you read it over, contact the South Carolina Department of Insurance at (803) 737-6160 with any questions, and let us help you find the coverage you need today.
State law allows you to legally drive without auto insurance. However, if you do so and cause an accident, you may find yourself financially responsible for the other driver's losses, including property damage, medical expenses, lost wages, and pain and suffering. This is because South Carolina is a tort state, which means the person not at fault in an accident may pursue an insurance claim against the party who caused it.
Car insurance protects you from the burdens you might face if you are involved in an accident. It also pays for your defense in any associated lawsuit or claim filed against you.
Insurers do not have to insure you, either. They have the authority to make this decision based on your claims risk. But if you have a good driving record, put a limited number of miles on your car, take a driver's education course and/or live in a suburban area, you should be able to purchase the insurance protection you need at an affordable price.
All drivers must carry minimum limits of liability and uninsured motorist coverage, referred to as 15/30/10. This translates into at least $15,000 bodily injury per person; $30,000 bodily injury per accident and $10,000 property damage per accident. You are not, however, required to purchase underinsured motorist coverage, which protects you when the other driver involved doesn't carry enough insurance to pay for all the damage.
When you shop for auto insurance, be prepared to give the following information to each insurance agent or company for an accurate quote:
A complete description of your vehicle and how it is used
Your driver's license number
The types of coverage and limits you need
Information concerning your driving record
Accident claims information
Proof of previous insurance
Proof of vehicle ownership
Keep in mind that different insurance companies charge different amounts for the same coverage. So compare costs and coverage, ask about any discounts which may help bring your premiums down, and make the most informed purchase possible.
Some eye-opening statistics you may not be aware of:
A study by the Center for Studying Health System Change reported that due to rising health insurance rates, 83 percent of employers were forced to increase the amount of money employees chipped in to their health benefits.
According to the industry consultant Hewitt Associates, HMO rates are expected to rise 13.7 percent this year.
Health care costs are growing twice as fast as inflation.
This state is going to great lengths to make sure its residents are insured. Read on to see what SC is doing for you:
If you are insured under a group policy (such as through your employer), coverage cannot be denied or limited to you because of your health status. This practice is called nondiscrimination.
Most health insurance policies available in this state are guaranteed renewable and cannot be cancelled due to a change in health status.
If you leave your job, it is possible to remain on your old group plan for a limited time. This is called COBRA or state-continued coverage. State-continued coverage can help you while you shop for a new policy or wait for a new one to start up. According to the U.S. Department of Labor, your COBRA coverage can last up to 18 months but cannot be renewed.
If your children are under 18 years of age, you may be able to find coverage for them with South Carolina's Partners for Healthy Children Program. You can contact them toll free at 888-549-0820.
Most insurance plans are self-funded and fall under the laws of the U.S. Department of Labor. You may contact them with questions at 404-562-2156.
Now, some tips to help you save money on health insurance:
If possible, buy group health insurance. If your employer doesn't offer health insurance, look to other groups and clubs you belong to, as they are also eligible to purchase a small group policy.
You also need to know what is included in your policy—such as any extras than can be removed for a lower premium. Coverage areas like vision, dental and mental health can usually be removed without much risk.
Remember that personal health plans are guaranteed renewable so buying your policy now — even if you are healthy—is a surefire way to make sure you're covered later, when you might not be enjoying good health.
If you have taken out a loan to finance the purchase of your home, the lender will most likely require you to take out a homeowners insurance policy too. This protects their investment in case your home is damaged or destroyed.
The three most common forms of home insurance protection in your state are Basic, Broad and Special.
Basic—protects your home and its contents from 11 basic perils including fire or lightning, hail or windstorm and damage or loss caused by theft or vandalism.
Broad—protects your home from the basic 11 perils plus six more. Additional perils include weight of snow or ice, building collapse and water damage from home appliances.
Special—protects your home from all perils, except particular exclusions such as earthquake and flood.
According to the department of insurance, most homeowners polices provide coverage for damage caused by tornadoes and high winds, as well as the belongings inside the dwelling and any other buildings on your property.
Typically, the duration of your policy will be determined by your agent. It is important to understand that there are expiration dates on homeowners insurance and your policy will need to be renewed at some point to keep it intact. Be sure to ask your agent about these deadlines.
By law, an agent or company can non-renew for any reason. If your company chooses not to renew your insurance plan, it must notify you 30 days before the policy's expiration date, as well as provide written explanation as to why your policy was not renewed.
Purchasing life insurance is one of the most proactive steps you can take to ensure the security of your family. Life insurance policies help meet your loved ones' financial needs in the event of your death. Think of it as basic protection they need to live a full and happy life without you.
Many experts consider life insurance the foundation of sound financial planning.
These are some of the reasons to buy it:
Income Replacement: IIt financially supports your dependents in your absence. Your life insurance policy can also supplement your surviving spouse's reduced benefits or help finance retirement.
Pay Outstanding Debts and Long-Term Obligations: It provides a way to pay medical expenses, burial costs and credit card debt. It can also be used to pay off a mortgage or help pay for college.
Estate Planning: The proceeds from your life insurance policy can pay your estate tax so your beneficiaries won't have to liquidate their assets when the time comes.
Charitable Contributions: You can allocate some of the proceeds from your life insurance policy for your favorite charity or organization.
There are two primary life insurance types: term and whole. To help you understand each one, we've explained differences between the two below.
Term Life
Term life insurance is the most common type, and is generally cheaper (and less complicated) than whole life. Term life usually offers you the best value for your dollar by giving the biggest death benefit for your premium dollar, payable to your beneficiary after your death.
This type of life insurance pays a death benefit only if you die during that term. Each time you renew your term life policy, your premiums may increase, along with your age.
To avoid surprises, you may want to ask your insurance company to show you the projected premiums for the next 10 or 20 years. That way, you and your family can budget for the future without straining your finances.
Whole Life
Whole life insurance is also known as permanent insurance. A whole life policy covers you as long as you live—as long as you pay the premiums.
In order to buy this kind of life insurance, you will need to complete a health questionnaire and possibly undergo a medical examination.
Unlike a term life policy, whole life insurance may also earn dividends on a yearly basis. If you do not take out the dividends when they accrue, they too will earn interest.