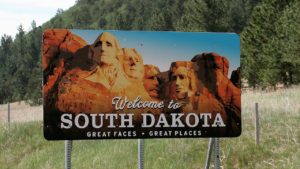 If you're a South Dakota resident looking for insurance, you're in the right place. We've compiled all the info you need to help you find home, auto, life, health or long term care insurance right here on this page.
We recommend you read it over, contact the South Dakota Division of Insurance at (605) 773-3563 with any questions, and let us help you find the coverage you need today.
State law requires you to show proof of what's called financial responsibility in order to license and operate a motor vehicle within the state. This simply means you must have the resources to pay for any damages in an accident that's your fault. Most South Dakotans choose to purchase auto insurance to fulfill this responsibility.
If you are stopped by a police officer for a moving violation and you aren't carrying proof of insurance, you may be subject to a fine, lose your driver's license for 30 days, and even be given jail time.
To meet the state's minimum requirements, you must carry certain amounts of car insurance protection. This includes liability, which pays for injuries you cause to another person, or property damage you cause through negligent driving; uninsured motorist, which covers your own bodily injury when involved in a hit-and-run accident, or when hit by a driver who is at fault but holds no insurance; and underinsured motorist, which pays the difference between your uninsured motorist coverage and the at-fault driver's liability coverage.
Liability includes bodily injury coverage of $25,000 per person per accident and $50,000 per accident, and property damage of at least $25,000 per accident. The law also requires uninsured/underinsured motorist coverage for your own protection.
To protect yourself fully, it's wise to consider buying higher limits of auto insurance overall than what the state requires. These minimums may not be enough to provide adequate finances for medical bills incurred as the result of an accident, cover the total value of your car, or protect you from lawsuits.
The Facts:
Statistics show that drivers under the age of 30 have more accidents than the remainder of the population. Thus, younger drivers (and households containing younger drivers) tend to have higher vehicle insurance premiums.
The more you drive your car, the higher your rates will be. This includes both miles driven to and from work and those driven for pleasure.
Married couples have fewer accidents than single persons. Rates reflect this difference.
The more claims you've had, the higher your rates. Most companies apply a surcharge to drivers who have a history of accidents.
A high number of accidents or a high crime rate in your area can raise your comprehensive premiums. Insurers are allowed to base premium rates on addresses, even though you may drive to other areas.
Insurance companies frequently use your credit history to figure your insurance premiums. Your credit history helps determine your level of claims risk, and insurers believe there is a direct link between financial stability and this risk.
You may be assigned an insurance score based on your credit history, which may then be used in deciding whether to accept or decline your coverage, and to set your car insurance rates.
Your state does not require insurance companies to write standardized health policies. Therefore, benefits may differ from policy to policy. You will need to read and compare policies to determine what type of coverage is right for you.
Despite varying coverage, state law does require certain mandated benefits, such as post-delivery hospital stays for new moms. For more on mandated benefits, contact the South Dakota Department of Insurance (number above).
You may be charged higher premiums for SD health insurance due to age, health status or other characteristics, although there are limits on how much your premium may fluctuate because of these factors.
If you're purchasing health coverage for a small group of employees, the guaranteed issue states that you may not be turned down for coverage because of your group's health status.
Furthermore, if you've had 12 months of credible coverage and lose it involuntarily, you may be guaranteed the right to buy a policy from the South Dakota Risk Pool—regardless of your health status—with no pre-existing condition exclusion period.
Your insurer cannot, under any circumstances, cancel your health policy if you get sick. This is because medical insurance in your state is guaranteed renewable. Your health plan can only be cancelled for reasons of nonpayment of premium, fraudulent behavior or violating other stipulations as specified in your policy.
If you are unable to obtain health insurance due to financial circumstances, you may find that you're eligible for aid through the following programs:
Pregnant women, families, the elderly and the disabled with low incomes may be eligible for free or low cost health coverage through South Dakota Medicaid.
Uninsured or underinsured children under the age of 18 may receive coverage under the South Dakota Children's Health Insurance Program, or CHIP.
The All Women Count! Program provides free or low cost breast and cervical cancer screening for uninsured and underinsured women between the ages of 30 and 64.
South Dakota home insurance companies offer many types of homeowners insurance policies, so examine policies closely to determine which type best suits your needs.
The following represent standard plans available:
Basic Form (HO-1): A very basic, rarely offered policy insuring your home and its contents against certain perils such as fire or smoke damage, windstorms, hail, explosions, bodily injury, medical payments, and vandalism and malicious mischief.
Broad Form (HO-2): Insures against perils in the HO-1 policy, as well as against falling objects; weight of ice or snow; damage resulting from an accidental discharge or overflow of water from within a plumbing, heating or air conditioning system, or automatic fire sprinkler system; and electrical damage to appliances.
Special Form (HO-3): The standard and most-widely-used policy. Covers your home for all risks of physical loss except those specifically excluded. Also offers coverage for loss of your home's contents.
Renter's Form (HO-4): Provides coverage for your personal property in a rental situation. Does not cover the building itself.
Condominium Form (HO-6): Covers your personal property and any owned portion of your condominium.
These policies offer varying amounts of protection against property damage, liability, medical payments and additional living expenses. Talk to a licensed, qualified insurance agent to determine which form of coverage you need at what level.
Once you settle on the right homeowners plan, take these steps to prevent loss:
Keep your home or apartment clear of trash and oily rags, which could start a fire.
Check lamps and electrical cords for faulty wiring.
Plan and prepare for fire and evacuation.
Keep matches away from children and don't smoke in bed.
If building a home, make sure it's constructed with fireproof materials.
Keep the exterior of your home in good repair to prevent accidents.
When away on vacation, make it appear you're home.
Place some form of identification on your valuables for easy tracking.
Install fire and burglar alarms to ensure safety and premium discounts.
Replace your washing machine hoses every two years to prevent home water damage.
Prepare a home inventory of your belongings, including receipts and model/serial numbers.
The sad reality is, after you die, your family may struggle to make ends meet.
Life insurance can help protect loved ones from financial stress and provide supplemental funds for:
Income Replacement—Any financial contribution you make to your family is likely to die when you do. You'll need to consider what would happen to your dependents if they no longer had you to rely on.
Paying Outstanding Debt and Other Financial Obligations—The proceeds from your life insurance plan may be needed to pay for your funeral and burial costs, as well as medical bills, mortgage payments, college tuition or retirement savings.
Estate Tax—If you have a large estate, it may be subject to taxes after you die. Your life insurance asset can pay for your estate tax so your beneficiaries don't have to liquidate their assets.
Charitable Donation—You may wish to donate some of the proceeds from your life insurance plan to a charitable organization, or to start a foundation in your name.
Once you've identified the areas in which your loved ones will need financial assistance, you'll want to determine how much money is needed for those things.
According to the Insurance Information Institute, many experts recommend buying life insurance in the amount of five to eight times your annual salary. While this is a good reference point, your family's specific needs may vary depending on your financial situation, and whether or not you support any dependents.
Speaking of which, if you have dependents, you will want to sit down and allocate funds for the following areas:
Owning a home (mortgage, repair, insurance, etc.)
Food, utilities and clothing
Child care
College tuition
Retirement savings
Final expenses
You will also want to estimate how inflation will affect these areas of your family's finances.
If you don't have dependents, you'll still want to consider purchasing life insurance for other reasons. Buying it while you're young will help you lock in a low rate, which will benefit you in the future if you get married or have children.
You may want to leave money behind for family, friends or a special charity. In this case, you should purchase enough life insurance to cover your funeral and burial expenses, as well as any outstanding debts and loans so your loved ones won't be burdened financially after you die.
The bottom line: Life insurance should be considered at any age to ensure your loved ones won't be saddled with emotional and financial stress after you die.