Amy Higgins
The federal health care reform law, passed in 2010, requires that all states fall in line with the federal health insurance mandate beginning in 2014. But in March 2011, a year after the law passed, President Obama announced he would support giving states the ability to opting out of national reform if they agree to adopt their own health care strategies.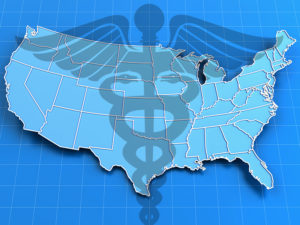 Bipartisan push
When the individual health insurance mandate goes into effect in 2014, insurance companies will not be allowed to charge more, restrict benefits or deny coverage because of a pre-existing condition, according to HealthCare.gov. In turn, most Americans (with few exceptions) will be required to buy coverage.
The original health care reform law allows states to opt out of the federal mandate in 2017. But in late 2010, lawmakers began pushing for legislation that would move up that date. The bipartisan Empowering States to Innovate Act (sponsored by Republican and Democratic senators) would allow states to apply for waivers beginning in 2014.
In March 2011, President Obama announced his support for the act, telling the nation's governors: "If your state can create a plan that covers as many people as affordably and comprehensively as the Affordable Care Act does — without increasing the deficit — you can implement that plan, and we'll work with you to do it."
According to the White House blog, opting out of federal health care reform wouldn't allow states to ditch reform altogether. Even if the Empowering States to Innovate Act lets them apply for waivers sooner, states can receive waivers only if they execute their own health care policies that promise to:
Provide coverage that is at least as comprehensive as the coverage offered under the federal law.
Make health insurance at least as affordable as it would have been through the federal law.
Provide coverage to at least as many residents as federal reform would have provided.
Not increase the federal budget deficit.
Proving their point
Under the Empowering States to Innovate Act, states would be required to apply for "Innovation Waivers" if they want to opt out of federal reform. According to HealthCare.gov, the proposed rules ask states to include the following in their applications:
The provisions of the federal law that the state wants to waive.
An explanation of how the state will meet goals of coverage expansion, affordability, comprehensiveness of coverage and costs.
A budget plan that does not increase the federal deficit.
Actuarial certifications and economic analysis to support the state's estimates.
Analysis of how the waiver will effect provisions that are not waived, access to health care services if residents leave the state, and how the state will deter waste, fraud and abuse.
Under the proposed rules, public input would be taken into consideration, and states with waivers would be required to submit quarterly and annual reports tracking affordability, comprehensiveness of coverage, the number of people covered and the effect on the federal deficit, according to HealthCare.gov.
A good idea?
In February 2011, the American College of Physicians praised the president for supporting the option of giving states waivers earlier.
But according to American Medical News, governors opposed to health care reform are concerned that the Empowering States to Innovate Act still would not be enough to ease the burden on states struggling to meet strict standards for providing care in a tough economy. And some observers cited by American Medical News said Obama's offer of flexibility doesn't mean real flexibility at all, as states still will be required to offer the same insurance coverage stipulated by federal reform to the same number of people without increasing budget deficits.