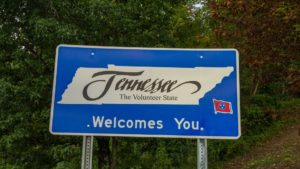 If you're a Tennessee resident looking for insurance, you're in the right place. We've compiled all the info you need to help you find home, auto, life, health or long term care insurance right here on this page.
We recommend you read it over, contact the Tennessee Department of Commerce & Insurance at (615) 741-2241 with any questions, and let us help you find the coverage you need today.
Tennessee does not require its drivers to purchase auto insurance. However, you must be prepared to show proof of financial responsibility, or ability to cover resulting costs, if you're involved in a moving violation or accident. Since most residents cannot do so without auto insurance, this purchase comes highly recommended by your state's department of insurance.
If you do decide to purchase car insurance, look for the following minimum liability limits:
$25,000 bodily injury per person
$50,000 bodily injury per accident
$10,000 property damage
Accidents happen every day all across the U.S. Many times, the costs from auto repair and personal injury run into the thousands of dollars. Purchasing more than these minimum limits protects you from financial stress and debt that can occur when you're placed in such an unexpected situation.
Because liability insurance covers only other drivers and the damage they incur, you may also want to consider buying uninsured/underinsured motorist and collision insurance to protect yourself and your own automobile against injury and damage.
Talk to a licensed insurance agent to determine if you need this type of protection.
Health insurance in this state is typically available in two categories, group and individual. Employers usually offer employees group health insurance, whereas an individual purchasing a health care plan on his or her own would purchase an individual health insurance plan.
Fee-for-Service plans and Managed-Care plans are the most popular and well-known types of policies. Fee-for-Service plans enable the ensured to receive treatment, after which the health insurance company pays all or a portion of the total medical bills. Any doctor or health care provider may be used.
Managed-care plans, including Health Maintenance Organizations (HMOs), Preferred Provider Organizations (PPOs) and Point-of-Service plans (POS), provide more comprehensive services and medical treatments, and enable members to use their services for a periodic, fixed fee. However, this type of coverage requires the use of pre-selected, contracted health care providers who charge discounted rates. Using a provider outside the contracted network may cause a denial of coverage.
When searching for medical insurance, you have the right to:
Insurance coverage for certain mandated benefits
Obtain a copy of your health insurance benefits for comparison purposes
Know what your health insurance plan does and does not cover
Prompt payment of claims
A written explanation when an insurance company denies your health insurance application or refuses to cover a health conditionEmergency room coverage for life-threatening injuries
Contact your insurer to complain or appeal any decisions with which you disagree
State law also provides you certain protections in your health insurance purchase, including:
Group health coverage cannot be denied due to health status.
Group health plans must limit exclusion of pre-existing conditions.
Tennessee health insurance cannot be canceled due to illness.
Group health plans must be guaranteed for small employers, regardless of claims risk.
If you leave your job, you may be able to remain in your previous employer's group health plan for a period of time.
If you are eligible for the Health Insurance Portability and Accountability Act (HIPPA), you are guaranteed the right to purchase an individual health plan.
If you lose your group health insurance, you may be able to purchase a conversion policy.
If you are in a low-income category, you and the members of your household may be eligible for free or subsidized health care coverage.
If you lose your health insurance and are receiving Trade Adjustment Assistance (TAA) benefits, you may be eligible for a federal income tax credit called Health Coverage Tax Credit (HCTC) to help you pay for new health coverage.
Retirees aged 55-65 who are receiving Pension Benefit Guarantee Corporation (PBGC) benefits may also be eligible for the HCTC.
Homeowners insurance protects you from financial losses caused by disasters and incidentals such as storms, fire and theft. A standard policy protects your home and the items you keep in it.
Home insurance is also a "package policy," which means that it covers both damage to your property and liability for any injuries you or your family members cause other people.
You can legally own a home without homeowner's insurance, but if you've financed the purchase of your home with a mortgage, your lender will most likely require you to take out a home insurance policy. This protects their investment in the event of fire, tornado and other disasters. Once your mortgage is paid off no one will force you to keep your Tennessee homeowners insurance; but it's simply not worth the risk to cancel your policy and chance losing all that you've invested in your home.
You will also want to think about the following while shopping:
Consider your geography. You're likely to pay more for insurance in areas prone to severe weather and natural disasters. You may also pay more for home insurance depending on your neighborhood: living in close proximity to the fire department may cost you less, while buying that farm 20 miles out of town may cost you more, as it would take longer for emergency help to reach you.
Learn to love maintenance. Homeowners that file claims for minor problems may pay higher premiums and could risk losing their insurability, not to mention the fact that addressing smaller maintenance issues can prevent a more substantial loss down the road.
Choose wisely. Before purchasing a home insurance plan, review the company's rankings on customer satisfaction, check their complaint record and asses the company's financial security. This unbiased information is available through your state department of insurance and such analyst companies as A.M. Best and JD Power.
There are six basic types of homeowners insurance in Tennessee. Consider the following:
HO-1: This basic policy covers your dwelling and personal property against losses from 11 perils. Some of these perils include fire and lightning; windstorm and hail; riot or civil misconduct; smoke; vandalism and theft; damage caused by aircraft or vehicles, and volcanic eruption.
HO-2: This basic "plus" policy covers the basic 11 perils plus six more. These include weight of snow or ice; falling objects; electrical damage, and three categories of water-related damage from home appliances and utilities.
HO-3: This is an extended policy for special homeowner items. It provides protection against 17 perils not cited in your policy with the exceptions of earthquake, flood, war and nuclear accident.
HO-4: This is a renter's policy which covers personal property only from 17 perils.
HO-6: This policy is for condominium owner coverage. HO-6 covers personal property from 17 perils in addition to other items or portions of the building the policy holder owns.
HO-8: This policy is suited for older homes and offers protection from 11 perils. It differs from HO-1 in that it covers repairs or actual cash values, but not rebuilding costs. Policy holders with HO-8 often own homes with special features (such as historic or architectural), which add to the home's replacement cost.
Most insurance policies are designed to protect you and your property from damage, injury or loss. The goal of life insurance, in contrast, is to protect your dependents from financial and monetary loss, and to provide for their welfare when you die.
Before you run out and buy a life insurance policy, research, research, research! The more you read and understand, the more likely you are to get the coverage you need.
It is important to compare deductibles and other policy specifics, and ask questions to clarify anything you don't understand. Many life insurance plans appear to offer identical coverage; however, when you read the fine print, you may find significant differences.
There are many different types of life insurance available in your state, each designed to fit unique circumstances and individual needs. However, you can purchase two prevailing types.
Term life is the simplest form, and provides you financial protection for a temporary period of time. This type of policy may or may not be renewable. Term life policies are the best type to buy if you need large amounts of coverage for specific periods of time.
Initial premiums for this type of insurance are usually much less than for permanent life—but they may increase each year for a specified period of time. In addition, most term life policies do not accrue cash value.
This kind of policy provides good coverage for young families raising children or paying off mortgages. They are, however, short term solutions and do not build equity. Monthly costs are low, so if you have limited resources, this is a good way to get the life insurance protection you need.
Permanent life insurance provides you with long-term financial protection. This includes both a death benefit and, in some cases, cash savings. Permanent life insurance builds equity over time, but these premiums run higher than those of term insurance.
The biggest advantage of permanent life insurance is that rates usually remain steady once you purchase the policy, so you never have to worry about increasing premiums.
If you're attempting to meet long-range financial goals, you would do well with this kind of insurance plan.