Justin Stoltzfus
Consumer advocate groups have a tip for today's drivers: When you're stranded after a crash, be cautious when someone offers to tow your car. Otherwise, you could end up being a victim of towing fraud.
Towing fraud costs everyone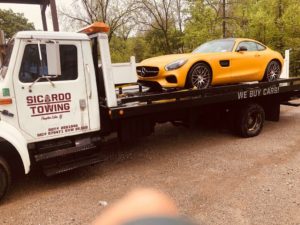 Towing fraud targets drivers dealing with the stress of an accident. Some fraudulent tow truck drivers search the highways for broken-down vehicles. Others monitor police scanners. Once a scammer reaches the victim, he might say he was called by the driver's insurance company. If you give permission to tow your car, you (and your insurance company) then get hit with fees for towing and storage that go above and beyond what any reputable towing company would charge.
Towing fraud means rising insurance costs, according to the National Insurance Crime Bureau. In late 2010, the bureau said that questionable towing claims for the third quarter of 2010 were up 103 percent, compared with the third quarter of 2009. The extra money that insurance companies are shelling out for towing and storage fees means consumers often pay higher premiums.
Allstate also warns drivers that "bandit" towing scams cost everyone. Many drivers have their own trusted mechanics — but deceitful tow truck drivers push drivers toward certain body shops, where they'll be overcharged for repairs as well. Fraudulent tow truck operators, according to the National Insurance Crime Bureau, often use verbal agreements to lock consumers into costly repair plans by towing the stranded vehicle to the shop, where the driver may have to pay fees to cancel scheduled repairs.
How to avoid towing scams
The aftermath of a crash can be overwhelming. But, according to the National Insurance Crime Bureau, there are some steps you can take to avoid becoming a victim.
Review your auto insurance company's towing coverage. That way, if a tow truck driver says your insurance will pay, you'll know whether that statement is truthful.
Ask about the applicable tow rates before giving permission to a towing company to move your car, and get those rates in writing.
Avoid giving information to tow truck drivers about your insurance policy or other personal financial details.
Agree on a towing destination and document this agreement.
Call the police if a tow truck driver becomes belligerent or agitated.
Be sure to ask about storage rates. Along with towing, many storage lots charge egregious daily rates for keeping a stranded vehicle.
Above all else, never rely on unsolicited services. If a random tow truck appears out of nowhere, don't get taken for a ride. Stick with tow truck drivers who were called by law enforcement, by you or by your auto insurance company.