According to an August 2005 report by the Robert Wood Johnson Foundation, between 7 and 8 million children under the age of 18 are living without health insurance. While this figure is down from the reported 10 million children in 1997, there is still much to be desired when it comes to insuring America's children.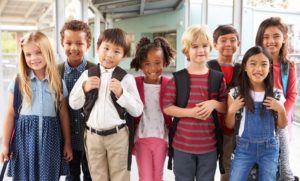 Measuring the Misfortune of Uninsured Children
It's not surprising that the health of children depend, in part, on their access to health care services. Without health insurance, the majority of families simply can't afford a visit to the doctor for even the most basic childhood maladies. In fact, the Robert Wood Johnson Foundation reported that one in three children go for an entire year without seeing a physician. And while a whopping 70 percent of poor children under the age of 18 rely on public coverage, not all children qualify. Poor, but not poor enough is a common thread when it comes to uninsured children. If a caregiver's income does not fall within the state's poverty guidelines, the child is ultimately considered ineligible.
An added cause of uninsured children: gaps in their parents' health insurance. Another federal study concluded that kids with gaps in their health insurance are just as likely to miss a doctor's appointment or skip a prescription refill as uninsured children. Notably, one-third of the children suffering from insurance gaps were of preschool age, a time when children are typically immunized to protect them from life-threatening illnesses. Such studies call attention to demographics of children who often aren't considered, pointing to an oversimplification of what it means to be an uninsured child in the United States.
This is a major problem according to the Centers for Disease Control (CDC), who says that all children under the age of six should see a doctor at least once a year to assess the child's development and growth as well as to ensure that all vaccinations are up to date. Physician visits are also an opportunity for the provider to counsel the parent on the needs of their growing child that not only contribute to the health and well-being of the child, but to a strong relationship between parent and child.
Goal to Enroll
Federal and state governments are working towards insuring more of our kids. Programs like State Children's Health Insurance Program (SCHIP) and Medicaid are broadening their eligibility requirements in order to enroll more children in their programs.
Medicaid is focusing its efforts on "well-child" visits through Early and Periodic Screening, Diagnosis and Treatment (EPSDT), which monitors the growth, development and immunization status of Medicaid's children. EPSDT includes the assessment of physical and mental health as well as health education counseling
Medicaid has also been collaborating with state programs to provide incentives to schedule checkups for their children. In Tennessee, a $5 gift card was given to parents and guardians for scheduling appointments for their children where they receive ESPDT services.
Incentives are also used to improve preventative care for adolescents. Studies show as children get older, they are less likely to visit a doctor or receive treatment under EPSDT. This raises concern amongst health care professionals as adolescence is typically a time of experimentation and high-risk behavior.
To help attract teens, HEALTHPARTNERS of Minnesota, in concordance with Medicaid, sent children ages 10, 12, 14, 16 and 18 a reminder during their birthday months to encourage a checkup. The reminder described the visit as a preventative checkup and a time to privately discuss concerns or questions. Furthermore, the reminder offered kids a $30 gift card to Target upon the completion of their checkup.
Protect Future Generations
With the recent studies on the country's uninsured, it is evident that the plight of uninsured children may be greatly underestimated. But these studies also point to a wave of innovative legislation and creative programs to improve the efficiency and quality of health care for America's youngsters. Without these programs, we risk losing our kids—and, in essence, our country's future.
If you are financially unable to purchase health insurance for your child, be sure to contact your state's department of insurance for information on financial assistance and special outreach programs.