by Penny M. Hagerman
When vans became popular in the 1960s and '70s, everyone from sports enthusiasts to business owners to the handicapped began taking advantage of their form and function. Depending on the type of van chosen—whether minivan, mid-size cargo or full-size utility model—a van could easily transport people and goods anywhere they needed to go.
But along with this unique vehicle came a need for unique protection. As consumers began purchasing and driving these oddly shaped, top-heavy and often cumbersome automobiles, safety on the road—and finances due to risk of accident—became an issue. Thus developed a need for physical and financial security that only insurance could provide van enthusiasts.
That was the advent of van insurance. Now, as individuals, families and businesses use vans to move everything from sporting equipment to loved ones, and business materials to wheelchairs, there's a way to do so safely and conveniently—without worrying about the risk of accident or injury.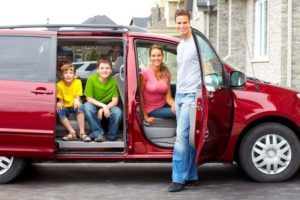 Though the early van models tended toward bumpier rides, louder engines, decreased stability and non-responsiveness, the van today has been redesigned to improve safety, reliability, efficiency and overall comfort. Not only has this increased van appeal with shoppers; it has also made the van safer and more reliable—and helped reduce van insurance rates.
Depending on make and model, some common redesigns include:
Quieter engines
Smoother rides
Better control/responsiveness
Greater stability
Additional safety features
More "creature comforts" (i.e. swiveling chairs, cup holders)
As van makers respond to lifestyle changes with van redesigns, insurers are responding with lower insurance quotes, cheaper insurance policies and lower monthly premiums.
Saving Money on Van Insurance
Because safety rates number one when it comes to insurance rates, taking advantage of a few simple tips can help keep auto insurance premiums low—and protection levels high—for van lovers.
Enforce safety by requiring riders to wear seat belts. Statistics show that those strapped in a van during accidents have much greater chance for survival—and lesser chance of injury—than those who aren't.
Inspect tires before driving. Because blowouts represent one of the most common reasons for loss of vehicle control, checking these systems before hitting the road helps keep the rider—and van—safe.
Make sure only experienced drivers drive. Because updrafts, other drivers' recklessness and slow responsiveness can cause accidents, van operators should have experience driving this particular type of vehicle before getting behind the wheel. This helps reduce the likelihood of accident insurance claims.
Limit cell phone usage and driver/passenger conversation, and require all drivers to be well rested before operating a van. The less distracted and the better rested the van driver is, the greater the chance of safe arrival.
Staying Worry-Free
Vans have come a long way since their introduction more than 40 years ago. Still, no one can predict what will happen behind the wheel.
But with the right insurance policy, drivers can hit the road worry-free. All it takes is some basic knowledge, the right insurance policy and a competitively priced plan.