Whether you drive a rugged SUV, a sporty convertible, or an old clunker that just takes you where you need to go, auto insurance is vital. When you're forced to throw on your brakes and the car behind plows into you, or you accidentally clip that metal pole with your bumper while backing out of a parking space, having the right coverage means you're taken care of—no matter how ridiculous you feel.
Besides, it's the law!
The "State" of Vehicle Insurance
Speaking of the law, insurance is a state-by-state issue. So depending on where you live, your requirements may or may not be the same as in surrounding areas.
But don't worry—as long as you carry at least the minimum amount of insurance required in your state, you can drive legally through one state to another. When you get ready to go on vacation or cross state lines, just make sure your vehicle complies with the laws in your home state.
Protecting Yourself & Your Vehicle
When you're looking for basic car insurance, you'll want to think about several different types of coverage, depending on your needs and budget:
Personal injury protection or medical payments coverage: covers your own medical and rehabilitation expenses resulting from an accident–regardless who's at fault.
Bodily injury liability: pays for injury you cause others.
Property damage liability: pays for damages you cause to others' property.
Collision: pays for damage to your car resulting from a collision with another car, object or as a result of flipping over.
Comprehensive: reimburses you for loss due to theft or damage caused by something other than a collision with another car or object.
Uninsured and underinsured motorist: reimburses you, a member of your family, or a designated driver if one of you is hit by an uninsured or hit-and-run driver.
Most states require drivers to buy a minimum amount of bodily injury and property damage liability insurance before they can legally drive their vehicles. To find out what your state requires, visit the Insurance Information Institute at www.iii.org.
General guidelines: the insurance industry and consumer groups recommend a minimum of $100,000 of bodily injury protection per person and $300,000 per accident, since accidents may cost far more than most states' minimum limits.
10 Ways to Save Big on Vehicle Insurance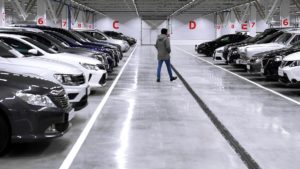 Insuring a car can make a big hole in your pocket—if you let it. Insurance premiums vary hugely between companies and agencies, but if you're willing to take some time and shop around, it's easy to find something affordable.
To get the best rates, we recommend these 10 money-saving tips:
Always maintain a good driving record. If you're one of those people who consistently breaks the law or drives too fast, your insurance rates will show it.
Get competitive quotes from different insurance providers. The more you have to compare against, the better informed you'll be–and the more likely you'll get the best rates.
Check insurance costs before you buy a new vehicle. Find out which features increase insurance premiums and which ones lower them. Keep these things in mind and choose your new vehicle carefully!
Choose higher deductibles. This could reduce your vehicle insurance costs by at least fifteen to twenty percent.
Consider buying insurance from the same company you have your home, accident or life insurance with. Many companies offer discounts to clients who buy more than one kind of policy.
Keep your credit record clean. Did you know some insurers take a look at your credit score before setting your rates? They do! So pay bills on time, keep loans to a minimum and keep credit balances low for the most stellar reports.
Don't duplicate coverage. Consider dropping medical payments coverage if you have a good health insurance policy. Because medical costs are so high, this could save you up to 40 percent on premiums!
Choose where you live carefully. Due to risk of theft, sometimes living and parking your vehicle in a rural community or suburb costs less than in the city.
Take advantage of discounts like low-risk career, low mileage, car pooling, no violations or accidents, taking defensive driving courses or senior citizen price cuts.
Insure all your family's vehicles together, and check group rates through corporate organizations, community clubs, and professional or alumni bodies.
Make It Official!
Before you hop in your car today and head for work or school, get covered with the right insurance for your vehicle. It's an absolute necessity, no matter what you drive.