Jill Overmyer
The Internet has made life easier in many ways, allowing people to complete common tasks without ever leaving their homes. Now, patients can book doctor's appointments — and even "visit" a doctor — online. According to a survey by the American Medical Association, nearly 40 percent of U.S. doctors communicated with their patients online in 2009; that number continues to grow.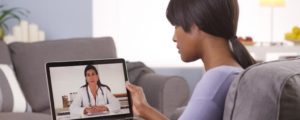 Virtual care
Virtual appointments (often called "e-visits") typically are performed through secure online portals. They're most commonly used for minor conditions like colds and minor rashes and are offered by both health care providers (like Cleveland Clinic in Ohio) and health insurance companies (like HealthPartners in Minnesota).
When requesting an e-visit, patients are required to fill out a detailed questionnaire online regarding their symptoms. Some e-visit systems also allow patients to upload photos to assist with diagnosis. A health care provider then reviews the patient's medical history, including any pre-existing conditions and medication allergies, before prescribing any treatment. Health care providers typically have 24 hours to respond to patients. Patients who need lab work or further testing are referred to their regular health care providers.
E-visits are attractive options because patient portals frequently are available around the clock and eliminate long stints in doctors' waiting rooms. Several major health insurance companies (like Aetna, Cigna and Humana) provide coverage for online visits just as they do for regular office visits.
E-visits also might become an increasingly attractive option for insurance companies. According to the Healthcare Financial Management Association, nonprofit health care system Group Health Cooperative lowered care costs by $10 a member per month after moving some interactions between doctors and patients online.
Booking doctor appointments online
E-visits are not for everyone. Some patients would rather visit a doctor face to face, and many providers will not conduct e-visits for young children. For these patients, online appointment booking technology lets them streamline their care, while still providing office visits.
Zocdoc.com is one site that allows patients in certain cities to search for physicians online and book appointments, often in the same day. By making doctor's appointment calendars available, the site lets patients see which doctors who accept their insurance have openings.
In addition to booking appointments online, online portals allow patients to manage certain aspects of their care that don't require face-to-face visits. Cleveland Clinic, for example, allows patients to request prescription refills, view test results and receive second opinions online.