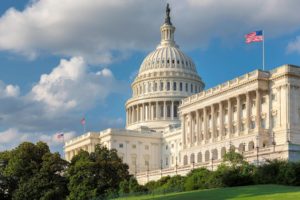 If you're a D.C. resident looking for insurance, you're in the right place. We've compiled all the info you need to help you find home, auto, life, health or long term care insurance right here on this page.
We recommend you read it over, contact the Washington, D.C. Department of Insurance, Securities and Banking at 202-727-8000 with any questions, and let us help you find the coverage you need today.
Similar to many states, D.C. law mandates a minimum level of insurance for each registered vehicle. If you don't comply with this requirement, you can get smacked with a fine of up to $300.
Minimum coverage requirements in the District include:
$10,000 property damage liability
$25,000 per person/$50,000 per accident third-party liability
$25,000 per person/$50,000 per accident uninsured motorist bodily injury
$5,000 uninsured motorist property damage, with a $200 deductible
Though you must carry at least these amounts, just having the bare minimum is not always best. To ensure you are protected in case of an accident, consider these additional coverages, which are non-mandatory:
Collision: This type of coverage pays regardless who is at fault and pays for physical damage to your vehicle caused if you overturn your car or collide with another vehicle or object.
Comprehensive: If your car is damaged through theft, fire, vandalism, hail, falling objects or collision with an animal, comprehensive coverage will pay to repair the physical damage to your vehicle.
Towing: This provides reimbursement for towing expenses resulting from an emergency situation.
Pinching pennies isn't always a good idea. You should look for insurance that will keep you covered. For instance, a policy that includes towing coverage may be a prudent if you live in an area where you must park on the street, either at home or work.
In the most basic sense, health insurance is a risk management tool. Although it may seem unnecessary when you and your family are healthy, it can save you from paying an exorbitant amount down the road when you need health care.
There are two main groups of health insurance: indemnity and managed care. To determine which form best suits you, take into account your budget, the degree of flexibility you want and the amount of coverage you need.
Indemnity Plan (Fee for Service): Generally the most costly, indemnity plans offer the widest selection of health care providers. However, this type of health insurance plan requires that you pay the full amount immediately and send the bill to the insurer for a refund.
Insurers use three factors to determine how much to reimburse you. The specifics, however, depend on your policy.
Actual Charges: No matter how much your health care costs, the insurer pays it in its entirety.
Percentage of Actual Charges: The insurer pays a set percentage, regardless of the cost, and you pay the difference.
Indemnity: The insurer pays a specified amount over a certain time period predetermined by the plan. The amount paid never exceeds the actual cost of care.
Managed Care: In this type of plan, your health care is literally managed by your primary care physician, who belongs to your health insurance plans' network.
The three types of managed care plans include:
Preferred Provider Organization (PPO): The main concept behind a PPO is the "network." This type of policy allows you to choose any health care provider from within your network, determined by your policy, OR any non-network health care provider. A co-payment or co-insurance may be required. Staying in-network saves you a bundle!
Health Maintenance Organization (HMO): Like the PPO, the HMO requires a co-payment to an in-network physician. However, the HMO plan does not pay for out-of-network services. If you need specialty care, you must get a referral from your primary-care physician.
Point of Service (POS or Open Access HMO): This kind of plan is similar to the HMO. However, when you need care, you can go out-of-network for medical care and receive a reimbursement of 50 to 80 percent. You may also be required to pay co-insurance and a deductible.
Don't feel overwhelmed with all the options. The more you know about the types of home insurance available to you, the easier it will be to find the policy that fits your budget and needs.
There are two kinds of named peril policies available for purchase:
Basic Coverage Perils: Covers fire, lightening, windstorm, hail, explosion, riot, or civil commotion, aircraft, vehicles, smoke, vandalism and theft.
Broad Coverage Perils: Covers all basic perils, as well as volcanic eruption, falling objects, weight of snow, snow or sleet, collapse of building, accidental discharge or water or steam and sudden or accidental damage from an artificially generated electrical current.
If you are a homeowner, choose from:
Broad Policy (HO-2): This insures your home against loss or damage caused by broad coverage perils.
Special Policy (HO-3): The most popular home insurance plan, the special policy insures your home against broad coverage perils other than those named in the exclusion clause.
Comprehensive Policy (HO-3/HO15 or HO-5): This is a more expensive and less widely offered policy that provides the broadest coverage for your home—against any event except those named in the exclusion clause.
Modified Coverage Policy (HO-4): There are certain standards that homes must meet in order to qualify for most types of home insurance. However, if you live in an older home or one that doesn't comply with those requirements, this type of policy may be for you. It insures your home against only the basic perils. This type of insurance returns your home to an inhabitable condition, not necessarily to its condition prior to the event.
If you are a renter or condo owner, choose from:
Tenants/Renters Policy (HO-4): This protects your personal property against the broad coverage perils. Like homeowners' policies, it pays any medical expense, living expense and liability coverage.
Condominium Owners' Policy (HO-6): Because in most cases the condominium association owns the building, this type of insurance will cover the part of the building you own—your condo! It also insures any additions you've made. Like a homeowners' policy, it pays any medical expense, living expense and liability coverage.
Life insurance secures the livelihood of those who must go on without you. It covers unexpected costs from legal or medical issues and pays for funeral arrangements. It also supplements the loss of your income.
You are a candidate for life insurance if you are the sole provider for your family or contribute a significant amount of your income to your family's total earnings. If you care for your children and home, you should also consider obtaining a life insurance policy that will allow your family to maintain its current standard of living.
Life insurance is designed to make up for lost income until you retire. To calculate how much you need, take your pre-tax income and estimate how many years remain until you retire. If you are a stay-at-home spouse, approximate what you'd pay an employee annually to maintain your home and/or care for your children.
There are two main types of life insurance sold in D.C. Your age, family size and financial status determine what kind you need.
Term Life Insurance: Term life insurance is more flexible and less expensive than permanent life insurance. It's best for young, growing families who have a large need for insurance, but not always the financial means to pay the higher premiums of permanent whole or universal policies. As you age, this type of insurance can potentially become very expensive.
Permanent (Cash Value) Life Insurance: The premiums for permanent life insurance are five to ten times as much as for term life insurance. But permanent insurance usually covers you for your lifetime and often offers a cash value—meaning you can actually accrue money throughout the life of your policy.