Adam Kosloff
Traditionally, weight-loss surgery has been considered a last resort for those who are morbidly obese. But new research suggests that those who are mildly obese also can benefit from bariatric surgery.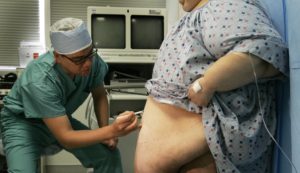 Cost-benefit analysis of weight-loss surgery
Researchers at the Washington University School of Medicine in St. Louis analyzed the cost-effectiveness of bariatric surgery for patients of varying degrees of obesity. Whether the patients were severely obese or mildly obese, most were successful in keep the weight off over time and had fewer weight-related medical problems compared with those who didn't undergo the surgery. Therefore, the researchers included, weight-loss surgery could be cost-effective for all obese patients (not just morbidly obese ones).
National Institutes of Health (NIH) guidelines recommend weight-loss surgery only for those who have a body mass index (BMI) of 40 or more (that's about 100 pounds overweight for men and 80 for women). NIH guidelines also recommend the procedure for those who have a BMI of 35 to 40, but only if they also have obesity-related health conditions. The Washington University analysis incorporated those who had BMIs between 35 and 40 but who were otherwise healthy — meaning they were outside NIH parameters.
Weight-loss surgery was the most cost effective for those who were extremely obese (BMI of more than 50). For them, the cost of the surgery was less than years of treatment for their health conditions. Yet it also was considered cost-effective for otherwise healthy patients with BMIs between 35 and 40, when decreased future health care costs and increased life expectancy were taken into account.
But will insurance cover it?
Although the Washington University researchers support extending weight-loss surgery to all obese patients, health insurance companies may not be generous when it comes to covering the costs. Some health insurance companies will provide coverage for weight-loss surgery — but their parameters resemble the higher ones established by the NIH.
Aetna, for instance, may pay for certain types of weight-loss surgery. But to qualify, patients must meet a long list of criteria, according to the insurer's website. For instance, patients must have a BMI exceeding 40. Those with BMIs between 35 and 40 must have one of the following conditions: coronary heart disease, Type 2 diabetes, high blood pressure or significantly obstructive sleep apnea. Moreover, the patient must have attempted weight loss in the past without long-term success to qualify.
The cost of obesity
Insurers could be costing themselves more money by refusing to extend weight-loss surgery to more patients, according to the Washington University researchers. Insurers use bariatric surgery to treat obesity-related conditions after they develop. Yet they might be able to save money by preventing these conditions from developing in the first place.
Health conditions related to obesity can be serious and costly. According to the federal Centers for Disease Control and Prevention (CDC), they include coronary heart disease, Type 2 diabetes, cancer, hypertension, dyslipidemia, stroke, liver disease, gall bladder disease, sleep apnea, respiratory problems, osteoarthritis and infertility.