Hi Deborah,
Excellent question! You may have heard that insurance coverage levels vary from state to state, so you're wise to inquire about what's required in your state to avoid possible fines and financial problems following an accident.
In Georgia, the only liability coverages you're required to carry by law are bodily injury and property damage. As you probably know, BI covers any physical damage you cause others as a result of your own negligence behind the wheel, whereas property damage pays to repair or replace others' cars or personal property damaged by fault of your own.
In Georgia, you need at least $25,000 per person and $50,000 per accident in BI and at least $25,000 in property damage. Keep in mind, however, that these are only the state-manadated minimums, and could leave you unprotected if the amount of damage you cause is greater than this.
Although Georgia requires all drivers to have liability insurance to drive, there are unfortunately those that either do not obey the law or may have unknowingly allowed their insurance to expire. Uninsured Motorist would protect you when that other uninsured driver causes an accident which damages your vehicle or injures you or your passengers.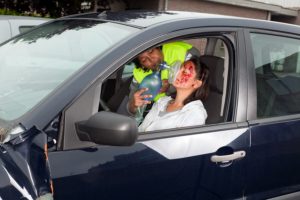 Though uninsured motorist coverage is not required in your state, or in most others, for that matter, this is a great option you should consider buying when you purchase auto liability insurance. How much you buy is completely up to you, and a licensed auto insurance agent in your state can help you decide what coverage level is most appropriate for you.
For more information on insurance in Georgia, see our article titled appropriately Georgia Insurance.
Please note: InsureMe Answers is not intended to be a substitute for advice from a licensed professional. For specific questions about a policy or claim, please contact your insurance agent or company.