As the temperatures rise, the risk of wildfires threatens American homeowners nationwide. In fact, the Institute for Business and Home Safety (IBHS) reports that the U.S. sees an average of 100,000 wildfires each year, which burn over four million acres of land.
So what can you do to protect yourself from the risk of wildfire? And does your homeowners policy provide coverage against formidable enemy?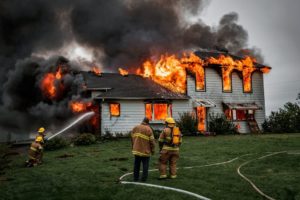 Protect Your Home with Insurance
While the western part of the United States is notorious for summer wildfires, it is important to emphasize that all parts of the country are at risk.
To protect yourself from economic loss, you will want to make sure you purchase homeowners insurance for the replacement cost of your home rather than the cash value — especially if you live or vacation in a high risk area. Many consumers don't understand that the cost to rebuild their home may amount to more than what they paid for it.
To ensure accurate coverage, you should have two or three contractors come to your home to determine the rebuilding cost. Once you have a few estimates, you will have an idea of how much coverage you will need to take out for your home.
Available Coverage for Wildfire Damage
The majority of homeowners insurance policies provide coverage for the repair or replacement of your home. The I.I.I. also reports that many polices provide coverage for additional living costs in the event that you are forced out of your home due to wildfire damage. This would provide compensation for hotel and restaurant bills as well as any other living expenses you might incur during the reconstruction of your home. You will need to ask your agent about this coverage as reimbursement amounts differ between companies.
Coverage is also available if your home was damaged by smoke or soot. Just because your home was not taken by an actual fire does not mean you are ineligible for coverage. Be sure to ask your agent if this coverage is provided in your policy.
Tips for Keeping your Home Safe
Firewise, an organization promoting the education and prevention of wildfires, offers the following tips to reduce the risk of wildfire damage in your home:
Remove leaves, cut grass, sticks and other "fuel" from your lawn or roof.
Trim trees so that the lowest branch is no more than six to ten inches from the ground.
Create "fuelbreaks" — concrete driveways and gravel walkways can interrupt the fire's pathway to your home.
Store firewood away from your house.
When possible, use fire-resistant construction materials for your home.
Keep a large clearing around your house for fire fighting equipment.
Taking additional safety measures may also warrant a discount from your agent.
If your home is made of fire-resistant material or if you live near a fire department, your premiums will be favorably impacted, says the Insurance Information Institute (I.I.I). Upgrading the wiring in your home or installing a fire alarm that alerts an outside service may save you up to 20 percent on your homeowners insurance. The I.I.I. also reports that installing basic smoke detectors and fire extinguishers can save you at least 5 percent. Being safe was never so beneficial!
Be Proactive
Don't let wildfire take you by surprise this summer. Review your homeowners policy, implement a plan of action and prepare yourself for the risk of wildfire ahead of time. It could make all the difference!