Frosty winter days call for hot chocolate and warm fires—not home maintenance.
You can help keep winter weather from infiltrating your home by properly preparing for the cold months ahead. And if Jack Frost does come nipping at your nose, having the right home insurance coverage helps ensure you have the funds to make any repairs quickly and easily.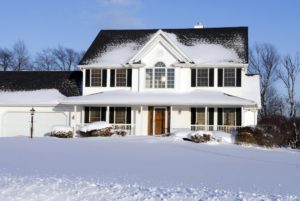 Get the Right Home Insurance
Basic home insurance covers four things: the structure of your home, your personal belongings, liability and living expenses. However, to what degree you're covered depends on the type of plan you have and how much insurance you purchase.
Before winter kicks into full gear, you may want to reassess your home insurance needs. There's no better place to shop your home insurance than InsureMe. Since 1993, we have been working with homeowners to get them the right insurance. If winter's whipping wind, icy rain or heavy snow damages your home, we want you to have home insurance that will take care of you and your family and make the situation right as fast as possible.
Winterize Your Home
We also want to give you information to help prevent winter from getting the best of you. Winterizing your home takes minimal effort compared to restoring a caved-in roof or flooded basement. So take a few days now to make sure your abode is up to par.
Keep your house warm. That's simple enough. If your house falls below 65 degrees, your pipes could freeze, causing all sorts of other problems. This is a lot less costly if you have winterized your windows. That means adding weather stripping, caulking gaps and installing storm windows where necessary.
Check your heating system and fireplace. Have your heating system and fireplace checked out before the wintry season approaches and you start using them regularly. Have a professional service your heating unit and clean your chimney and fireplace.
Check out the roof area. What would your house be without a roof? Not much good. Ensure it's intact—no loose shingles, clean gutters and no overhanging tree limbs. It's also worthwhile to install a screen over the top of your fireplace to keep out debris and make sure your chimney flashing (the metal or aluminum seal between your chimney and roof) remains secure.
Get to know your pipes. Learn how to turn off water should your pipes freeze. The faster you do this, the better your chance of preventing busted pipes. During extremely low temperatures, warm those pipes with heating tape.
Look for structural damage. Better yet, have a professional do it. Your home's small problems could turn into large-scale issues during the winter months.
Note that basic home insurance policies don't offer flood insurance. So prevent snow-related flooding by getting plastic coatings for your internal basement walls and procuring a sump pump. It could save you a bundle come spring if the snow melts quickly.
Have someone watch your house. If you spend the winter in a more tropical milieu, turn off your water and have your system professionally drained. Hire someone to check on your home regularly to fix any damages before they become severe.
Spending a little more on home insurance could actually save you money if any winter-related damages occur. So take a look at your home insurance policy now and make sure you have enough coverage. Then spend your money on a fun vacation, rather than a new roof!
Winter creeps up quickly. Contact InsureMe today for adequate coverage all winter long.