An insurance company representative who helps individuals, families and/or businesses choose the right insurance policies to meet their needs and protect their finances.
Agents sell one or more types of insurance, such as property and casualty or life and health. Some represent and are employed by only one insurance company, and those agents are referred to as "captive" agents. "Brokers," on the other hand, sell products through a variety of different insurers, and match clients with insurance policies that offer the best rates and coverage.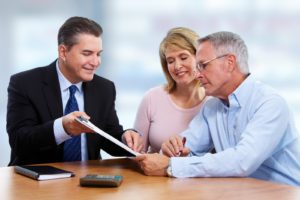 Besides selling policies, an agent also prepares reports, maintains customer records and seeks out new clients. When a policyholder experiences a loss and files an insurance claim, the insurance agent helps ensure the claim is settled quickly and efficiently.
Most agents work out of small company or home-based offices, but depending on the size of the carrier that employs them, their headquarters may also be in large, commercial-type buildings. However, much of an agent's time is spent outside the office, traveling locally to meet with clients, investigate claims or close sales.??
Insurance agents must be licensed in the state where they sell insurance, and often learn the skills necessary to excel at their job with on-the-job training and mentoring through more experienced agents. Previous sales experience can be very beneficial to the agent who's just getting started.