Jill Overmyer
If your job requires you to make deliveries or perform other errands but doesn't provide a company car, you might find yourself using your own vehicle. However, your personal auto insurance probably won't cover costly on-the-job accidents like:
Injuries to clients or coworkers riding with you.
Damages to goods, property and other vehicles you cause while you're making deliveries.
Personal auto insurance policies generally don't cover you while you're on the job because delivery drivers are considered especially high-risk, according to food industry website FoodServiceWarehouse.com. Delivery drivers put a lot of miles on their cars — leading to a greater chance for accidents.
Fortunately, there are several ways to ensure that you and your vehicle have full insurance coverage so that you can do your job.
Non-owned vehicle liability insurance
Your place of employment may provide what is called non-owned vehicle liability insurance to its employees. Non-owned vehicle liability insurance is a special type of insurance available to businesses that rely on employees using their own cars, according to Progressive Insurance. That way, if you're involved in a work-related accident with your personal vehicle, the damages will be covered by your employer's insurance and not your own.
Commercial auto insurance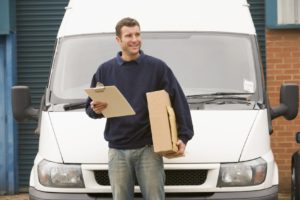 For those who are independently employed, commercial auto insurance can be an excellent option. Although this type of insurance is most commonly used for commercial fleets and large-scale transportation businesses, it's also available to individuals, like delivery drivers, according to Progressive. It provides you with profession-related liability coverage you need that's not covered by standard personal auto insurance.
Commercial auto insurance premiums tend to be higher than those for personal auto policies (because of the increased use of the car). However, as Progressive points out, if you get in a serious accident while delivering pizzas on icy roads, your personal auto policy won't cover the damage and injuries you cause.
Pizza delivery vehicle insurance
Small, independent pizza parlors often do not have enough coverage, leaving it up to their employees to acquire the correct coverage (or not), according to PizzaMarketPlace.com, an online resource for restaurant owners. But pizza delivery has become such a commercially significant job that some specialty insurers now offer policies specifically for pizza deliverers. Willis HRH, for example, offers pizza delivery insurance as part of its overall business insurance coverage for pizza restaurants. Limits are $1 million or $1.5 million, and policies cover cars owned by the business and by employees.
Staying safe on the job means having the proper auto insurance coverage. If your job requires you to drive regularly, make sure you're properly covered before making your deliveries.