The desire to protect your children is one of the most natural, instinctual aspects of being a parent. But what would happen to their futures and dreams if you passed away and left them without the resources they need to lead a successful, productive life?
It's extremely important you ensure that your children have what they need to survive in case you or your spouse dies. This is where life insurance for parents comes in.
Whether you're single, married or divorced, buying adequate life insurance means your kids have the finances they need for their daily lives, education and future careers, no matter what life path they choose—and you have peace of mind knowing they're well cared for.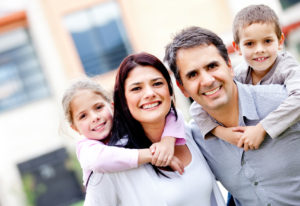 Why They Need It
Studies show that having enough life insurance helps ensure your children:
Have the resources to pay off expenses and debts, and start fresh on their own
Attend college—without going into debt
Get medical care and stay healthy
Maintain their quality of living
Pursue their future dreams and career goals
If you're the sole breadwinner in your family, just think how things would change for your family virtually overnight if you passed away. Your spouse and children, left without financial support, would have to find a way to survive, both financially and physically. Life insurance for parents would help make that possible by providing for their needs.
If you're a single parent, leaving your children behind would mean they'd have to find a place to live, as well as a means of support—completely on their own. Once again, adequate parental life insurance would give them the resources to make their way in the world.
Getting Covered
Now that you know you need it, what are your life insurance options and how much should you buy?
There are essentially two types of life insurance for parents: term life and permanent life. Term life policies provide protection for a specific period of time and generally provide life insurance only, with no accumulating cash value. When you die during the policy's term, a term life policy pays your beneficiaries the policy's current face value.
In contrast, permanent life polices provide protection for your entire life—as long as you pay the premiums. But they also build cash value, which leaves your dependents more money to tide them over 'til things get settled.
Which of these types you buy is totally up to you, and depends mostly on your financial situation. If you're looking for the easiest, cheapest option, we recommend a term life policy; if you can pay a little more in premiums and want more protection, a permanent life policy might be just the thing.
Next, determine how much life insurance your children need to carry on without you. This is best done one of three ways:
Multiply your income by 8.
Multiply your income by 6 and then add in one-time expenses, such as paying off your mortgage or paying for college.
Total up your expenses, both one-time and long term, and multiply this figure by the number of children you have.
Having enough life insurance is especially important for young families, as they tend to have tighter cash flow. So keep this in mind if your children are young, or you or your spouse is a stay-at-home parent.
Closing Tips
Employer-sponsored life insurance is rarely sufficient—and you can't take it with you if you lose your job.
Buy an individual policy, rather than a group life plan. If you're healthy, group policies are rarely cheaper.
Don't forget to calculate the contributions of a stay-at-home spouse, whose premature death may mean hiring full-time child care.
If you choose term life, go with a period of time that carries your dependents through until they no longer need your financial support—past college and into their careers.
Make sure term life policies can be permanently converted once they expire. This helps keep rates low.
Don't forget to cover funeral costs, medical expenses, estate taxes and inflation in your calculations.