Taking a huge depreciation hit when driving that new automobile off the lot is no one's idea of fun. Just the thought of losing several thousand dollars in the process is enough to make anyone crazy.
But there is a way to minimize financial loss and keep devaluation—and insurance premiums—to a minimum: buy used, instead of new. Not only is used auto insurance cheaper; the money you shell out for that used car is much easier on your wallet, too.
New vs. Used Auto Insurance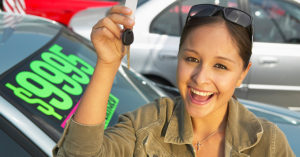 When buying an automobile, your goal is to protect both yourself and your vehicle while out on the road. But since a new car's value is much higher than its used counterpart, you'll have a lot more value to protect if you decide to buy new. That means comparably higher insurance rates, too.
If you buy a used automobile, your premiums will be lower. Not only will you have less value to protect with something used but, when stolen or damaged, used cars cost less to repair or replace than brand new ones. That means your insurer faces less risk—and that translates into lower comprehensive and collision rates for you.
No matter what you drive, your auto is capable of inflicting injury on others and damage to their vehicles. Since liability insurance covers these types of situations and liability rates aren't affected by a car's age, rates for this portion of your auto insurance tend to be more or less equal across the board.
Safety Concerns
Since safety is an important factor used to calculate auto insurance rates, buying a pre-owned automobile requires doing some research ahead of time to keep your used auto insurance rates low.
Insurance companies track injury statistics by vehicle make and model, and many times offer discounts to used car owners who purchase safer cars or those containing safety equipment. So if you're torn between two vehicles and one will cost significantly more to insure than the other, keep this in mind: a safer automobile may translate into lower premiums—as well as protect you from more extensive injury.
Deductibles
We all know the basic premise: the lower your deductible, the more your insurance premiums cost. And while it may make sense to keep deductibles low on a brand new car that looks like it just came off the showroom floor, it usually makes more sense to opt for a higher deductible when buying used auto insurance.
Why? Since used automobiles normally have some wear and tear (or cosmetic damage) already present, used car owners may choose to skip repairing minor collision damage completely—or pay those expenses out of pocket—rather than paying the higher premiums a lower deductible commands. However, before setting deductibles low on used car insurance, owners should make sure they have additional funds available to pay for those minor repairs…or be willing to live with their automobile just the way it is.
So how can you know where to wisely set your deductibles when buying a used automobile? Ask yourself how much you can comfortably afford to pay in case of an accident without upsetting your finances. The more you're able to contribute, the higher your deductible should be.
Save Time & Money
As with everything else worthwhile, buying insurance for a used car can be tricky. But by buying used over new, you'll save time and money—and that's welcome relief in an inflated economy.