By Crawford Frazer
For members of the military, assignments can come at a moment's notice. So what are you supposed to do about the auto insurance policy that covers your car back home?
Don't let your policy lapse
While you are deployed, it is vital that you make sure your auto insurance premiums are paid on time. If you fail to pay, your insurance company can cancel your policy, and you may find that you have to pay very high premiums to get a new one. In some cases, insurance companies will refuse to cover anyone with lapses in coverage, according to the National Association of Insurance Commissioners (NAIC).
Suspending coverage
If no one is driving your car while you're gone, you may be able to get your insurance policy suspended. Or you might be able to get certain types of coverage suspended to save on premiums (keeping your liability coverage but temporarily removing your collision coverage, for example). However, auto insurance is governed by state laws, so this all depends on where your car is registered, according to NAIC. Your state may not allow you to suspend coverage, and not all auto insurance companies are willing to do so.
Military discounts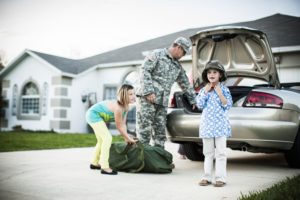 Many auto insurance companies offer military discounts. GEICO, for example, offers discounts of up to 15 percent on auto insurance for those on active duty, those who are retired from the military and members of the National Guard or Reserves.
GEICO also offers "emergency deployment" discounts if you're serving in areas designated by the Department of Defense as "imminent danger" pay areas (places where servicemembers are paid more because of heightened danger). In order to qualify, servicemembers must store their cars through one of GEICO's approved plans.
Servicemembers also get special rates through USAA. Designed specifically for members of the military and their families, USAA is a longtime provider of insurance and financial services.
Some of its banking and investment services are available to all — but its auto insurance coverage is available only to:
Service members on active duty.
Veterans.
Former USAA members.
Spouses, widows or widowers of USAA members or former members.
Children of USAA members or former members.