As car manufacturers struggle to invent the latest and greatest gadgets to draw consumers in and increase sales, a growing number of Americans are instead looking back to days gone by toward those aged, unique, reliable models of yesterday.
Perhaps mostly for sentimental reasons, today's classic car owners often enjoy socializing over their prides and joy, showing, comparing and conversing over issues such as body style, engine size and horsepower.
And they're rightfully proud, as many have invested a significant portion of themselves and their resources in this often expensive pastime.
It's because of this investment, the rarity of older vehicles and the cost to repair or replace them that these owners have much to protect when it comes to taking care of business—making getting the right classic car insurance policy the most important issue of all.
What Exactly Does "Classic" Mean?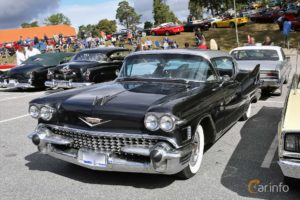 According to most insurance companies, classic cars are:
Antique, vintage or collector vehicles
At least 15 to 25 years old
In good or better condition
Used as a second vehicle
Stored in a garage or on private land
Driven and enjoyed for appearance and pleasure, rather than function
By the time a car is old enough to be considered "classic" by insurers, it has usually exceeded its design life by a considerable margin. (Most cars are built to last 10-15 years.) Therefore, it may take significant maintenance to keep it running, and parts may be out-of-date and hard to find when needed. This makes classic car insurance slightly more expensive than its usual counterpart.
Although some regular auto insurance companies also insure classic cars, there are companies that specialize in providing the right coverage level for these particular vehicles at the right price. If you have a classic car you need to insure, we recommend you get quotes from both types of insurers to help you make the right decision regarding your car insurance.
It's Not Your "Normal" Insurance
As stated above, classic car insurance is not the same as most auto insurance policies. So what sets it apart?
It often includes usage restrictions, such as a maximum of 2,500 miles per year or drivers over 21.
It insures a secondary car, not the driver's primary vehicle.
It doesn't allow the car to be used for everyday driving, such as running errands or doing chores.
It insures the car for either agreed value or actual cash value, whichever your policy specifies.
It usually insures the vehicle for specific purposes only, such as driving to car shows or special events.
In some ways, classic car insurance is similar to other auto insurance policies. For example, insurers determine premiums in many of the same ways, using factors such as the car's age, how much and where you drive the car, where it is parked overnight and your driving record.
Conventional Tips for Unconventional Cars
With so much to protect, how can classic car owners find the right insurance to adequately protect their vehicle in an accident or mishap?
We recommend these age-old tips:
Have your classic car appraised so you know its true value.
Ask your insurer for "agreed value" coverage (market value at the time the policy is written), rather than "actual cash value" coverage (market value at claim time; the standard auto policy uses this measurement).
Get the "agreed value" in writing, and keep pictures of the car as evidence in case you ever need to file a claim.
If you drive more than occasionally, ask for a policy with no mileage limit; if you drive less frequently, ask for a lower-priced policy with a sufficient limit.
Find out what restrictions your insurance company places on your policy—and follow them. You'll lessen your risk of rejected claims and keep your classic car covered.
You may qualify for discounts if you belong to car or travel clubs. Check with your agent to see if your membership in one or more of these organizations entitles you to an additional rate reduction.
Protect Your Special Car!
A unique and extraordinary breed, classic cars need special protection. And that's exactly what they get when you use InsureMe to obtain free car insurance quotes.
If you're looking for the right protection for that special classic car, fill out our quote box today. We'll connect you with insurers on our network willing to compete to provide you affordable coverage.
Then invest your resources in your classic car—not your insurance premiums!