If you're a risky driver who constantly speeds, weaves in and out of traffic or causes accidents, your driving record probably isn't stellar.
If, on the other hand, you're a good and careful driver who obeys the law, seldom gets ticketed and hasn't had an accident in years, your cautious nature may just earn you some brownie points when it comes to lowering your insurance rates.
In fact, for good drivers like you, cheap car insurance is the ultimate reward for careful driving.
The Logic behind It
Since car insurance companies base premiums partially on past driving experience, a good driving record automatically entitles you to a discount on car insurance rates.
Why? Because once a careful driver, always a careful driver—at least in your insurer's eyes. If you have a good driving record when you're younger, you'll usually continue that trend as you grow older. That makes you less risk to your insurance company; and they'll most likely reward you with reduced premiums.
In fact, the better your record when it comes to things like accidents, claims and tickets, the lower your premiums are likely to be—saving you a considerable amount on car insurance.
It's as simple as that.
What Makes a Good Driver?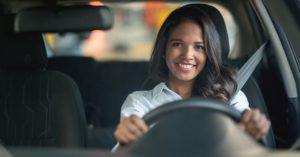 Typically labeled a "preferred risk driver" by the insurance industry, if you're a good driver you're generally:
In your mid-twenties or older, offering enough time to establish an exemplary record
Free of moving violations or tickets in the past three or more years, depending on where you live and which insurer you choose
Superior when it comes to credit scores, with higher ratings than most of your peers
Lawful citizens, with no vehicle-related crime convictions
Taking a defensive driving course also improves your chances of obtaining a good driver discount, as it shows your insurance company a willingness to improve your overall driving skills.
When It's Not Your Fault
Occasionally we all find ourselves in unavoidable situations that aren't our fault. So how do predicaments like these affect good driver discounts?
Though most insurance companies won't penalize you as a result, check with your insurer ahead of time to find out if no-fault tickets or accidents can cause you to lose your good driver discount. Every insurance company sees things differently, so it's wise to ask these questions right up front to avoid problems later.
Besides, a good driver is always well informed!
Enjoy the Benefits
Good drivers ride safely, avoid costly repairs and medical bills, and help protect themselves and others on the road. But one of the greatest benefits comes with preferred driver discounts, an easy route to cheaper car insurance.