Justin Stoltzfus
Supplemental heating sources like fireplaces, space heaters and wood-burning stoves can keep your home extra toasty during the winter. But that roaring blaze in the fireplace could suddenly become a house fire if you don't take the proper precautions.
Here are some ways to keep your home warm and safe during the winter months.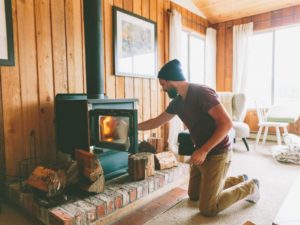 The right insurance coverage
Home and renter's insurance policies cover damage caused by fire and smoke. They also cover any water damage that results from firefighters' attempts to extinguish blazes, according to the Insurance Information Institute.
If you already have coverage, be sure you have enough to replace the home and all the belongings that are in it. Homeowners and renters who have cash value (rather than replacement value) coverage might find themselves underinsured. Although replacement value coverage is generally more expensive than cash value coverage, there are ways to save money. For example, your insurer might give you a discount if you upgrade your home's wiring or install a sprinkler system, according to the Insurance Information Institute.
Home heating fire prevention
Even the right home insurance won't be able to replace the lives and memories lost in a house fire. Follow these home-heating safety tips from the Insurance Information Institute and the U.S. Fire Administration.
Turn off space heaters when you leave the room or go to sleep. If you're using an electric space heater, avoid plugging it into an extension cord.
If you're using a kerosene heater, burn only kerosene — not gasoline or camp stove fuel.
Make sure there's enough room on all sides of any heater to avoid incineration of nearby materials.
Have your chimney cleaned once a year to prevent creosote or other materials from building up. Even if you haven't used your fireplace in a long time, have a professional chimney sweep inspect and clean it; animals could have built nests inside your chimney.
Avoid using lighter fluid or other flammable liquids to start fires in a fireplace. Use a screen to keep all embers inside.
Avoid using soft, moist wood in your fireplace — it accelerates the buildup of creosote.
Keep your hearth clean of flammable debris.
Make sure your fireplace is cold before going to sleep.
Too hot to handle
Supplemental heating caused more than 66,000 home fires in 2008. Forty-three percent were caused by fireplaces and chimneys, while 25 percent were sparked by wood-burning stoves and space heaters. Together, these fires caused more than $1 billion in property damage.
Wood-burning stoves and space heaters were the most deadly, causing nearly three-fourths of the 480 supplemental heating-related fatalities in 2008. These portable heaters are particularly dangerous, according to the Insurance Information Institute, because they allow for so much human error.