If you're not satisfied with your insurance company; you need to insure a new car or you'd like to find out how to get a better deal on car insurance, this information is for you. Use it to weed through the car insurance maze, and you'll be on your way to the most secure coverage money can buy.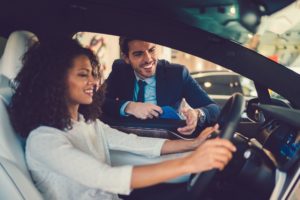 1. Do Your Research
Since car insurance isn't exactly optional, we recommend you make things easy on yourself by shopping online. You can even sit at home in your pajamas if you want; just get comfortable. Log on to your computer and you're set to go.
Now:
Find out what types of coverage your state requires—and at what levels. To find out your state's requirements, we recommend this page from the Insurance Information Institute (III). Remember, since insurance is regulated state-by-state, what you'd need in one state isn't necessarily what you'd need in another. So if you plan on moving out-of-state soon, be sure to check out the requirements where you're heading before you get there.
Think about personal finances. While you want to make sure you're adequately covered, you don't want to get yourself in so deeply that you can't afford your car insurance premiums. If you feel you're already paying too much, take a look at your budget and determine what you can reasonably afford, either annually or monthly. Then keep this amount your goal as you shop online for car insurance.
Find out what's on your driving record. By ordering a copy through DMV.org, you'll know exactly what you're up against when it comes to buying car insurance. A small fee may be required but, in most states, you can order online and save the hassle of waiting in line. Another Tip: You may also want to get a copy of your credit score, since insurers may use both your driving and credit histories to determine car insurance rates. You can also purchase these online from any of the three credit reporting agencies: Experian, Equifax or TransUnion.
Determine what (if any) additional coverage you'd like to buy and set your deductible levels. If you're worried about totaling that new car, you might want to consider collision insurance. If, on the other hand, you're concerned about colliding with someone with no insurance, uninsured driver coverage might be just the thing.Your options are numerous, so read up on car insurance to get educated before you sign on the dotted line. Your deductible is simply the amount you pay out of pocket before your insurance company starts picking up the tab when you have an accident. The higher your deductibles are, the lower your car insurance premiums will be. $500 and $1,000 are common deductible levels for car insurance.
Get the low-down on discounts. Do you have a great driving record? Are you a student with outstanding grades? Maybe you drive a car with a high safety rating? Have you ever taken driver's education? All these situations qualify you for driver discounts, which can really add up!
2. Gather Quotes
It's time to apply for car insurance by gathering quotes. You'll need the following information for this step:
The name, age, sex and driver's license numbers of all drivers in your household
Your car's make, model and year of manufacture
Your current insurance policy
Your vehicle registration
The approximate number of miles you drive annually
The purpose for which you use your car
Where you park your car overnight
Now, fill out the quote box at the top of this page so we can start matching you with local car insurance agents. The application only takes a few minutes, but with the savings you'll experience, it's definitely worth a little time.
3. Check References
When you start receiving car insurance quotes, you'll want to check insurer references to make sure you're dealing with reputable companies.
Start with your state department of insurance, which you can find by clicking on your state here. Then go to an independent rating service, like A.M. Best for further information. Here you'll find customer service and financial stability ratings that may prove invaluable in choosing the right insurance company.
4. Review Offerings
Before you settle on a car insurance policy:
Carefully review the quotes and policies you've received
Make sure each policy includes the coverages you requested
Ask yourself if the premium payments fit your budget
Talk with each agent to find out how comfortable he or she makes you feel and determine the level of service each one provides
Remember, the cheapest policy isn't always the best. When it's time to file a claim, you need an insurer you can count on. Depending on what's more important to you, additional services may be worth a few extra coins.
5. Buy the Right Policy
Now that you've narrowed down your choices and chosen the policy that's right for you, your insurance agent will handle all the details. After all, that's what he or she is trained to do.
Make sure you have contact information so you can call your agent if you have questions when you receive your policy. Meanwhile, your agent should give you a temporary binder to serve as proof of insurance. Carry it with you, or in your vehicle, until your policy arrives by mail. Then file it away and substitute your proof of insurance card, which should be small enough to carry in your wallet.
A note of caution: Don't forget to cancel your previous insurance policy!
You're On Your Way!
Now that you know how to buy car insurance, you're on your way toward the right car insurance at the right price.
So take advantage of this information and let InsureMe shop your car insurance for you. The results might just surprise you!