If you're a Maine resident looking for insurance, you're in the right place. We've compiled all the info you need to help you find home, auto, life, health or long term care insurance right here on this page.
We recommend you read it over, contact the Maine Department of Insurance at 800-300-5000 with any questions, and let us help you find the coverage you need today.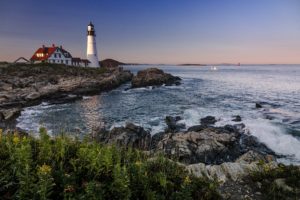 Have you ever wondered what your auto insurance actually covers? Finding out before you need to file a claim is a great idea…and finding out before you finalize your purchase is even better.
Here are a few definitions to help you better understand what you're looking for:
Bodily injury pays for injury or death you cause others when you are at fault in an accident.
Property damage pays to repair damage you cause to their car or property.
Medical payments coverage insures you, or someone driving your car, against death or injury.
According to state law, your car insurance policy must consist of the following coverage:
$50,000 bodily injury per person
$100,000 bodily injury per accident
$25,000 property damage
$1,000 medical payments
Driving without insurance never pays. Your driver's license can be suspended, your car impounded, your driving privileges revoked and/or court costs prescribed. So drive carefully, and buy plenty of insurance protection to cover yourself, others and your vehicle.
Health insurance rates in your state may be based on any or all of the following:
Age
The industry you work in
Your geographic area
Whether or not you drink or smoke
Why do you need health insurance? The money you pay in health insurance premiums help pay for costs associated with hospitalization, healthcare provider fees, prescription drugs and administrative expenses.
But you don't have to spend a lot of money to get insured. You can help keep costs low by:
Becoming educated about the real costs of medical services and the best ways to stay healthy
Using generic or less expensive drugs whenever possible
Using your health plan's nurse hotline whenever possible before seeking medical attention elsewhere
Talking to healthcare providers about their costs and use of newest technologies, which drive costs up
Refraining from smoking or drinking, and living an overall healthier lifestyle
There are many forms of homeowners insurance in Maine, but the three main types you'll run across are Basic (HO-1), Broad (HO-2) and Special (HO-3):
A basic HO-1 policy protects your home and its contents against basic perils such as fire, smoke, glass breakage, defacement and theft.
A broad HO-2 policy is an extended version of HO-1. It protects your home from the same perils listed under an HO-1 policy, plus damage from structure collapse, falling objects and water discharge from home appliances.
A special HO-3 policy is the most common form of home insurance because it protects your home and its contents from "all" perils, with the exception of floods and earthquakes.
All three types of policies also protect you from legal responsibility if someone is injured on your property.
Most homeowners policies require you to carry upwards of 80, 90 or 100 percent of the total replacement cost of your home—the amount it would cost to rebuild the same structure in the event of a total loss.
If your policy does not require such coverage, you should still consider insuring your home for replacement cost. That means that, if your home is damaged or destroyed, there is no deduction or depreciation taken away from the cost of rebuilding and replacing the structure and its contents.
There are many different types of life insurance available in your state, each designed to fit unique circumstances and individual needs. Examine each type to understand its concepts and determine which policy type best suits you.
Term insurance: the simplest form. You purchase coverage for a specific period and, if you die during that time, your beneficiary receives the policy's value. Includes NO investment component.
Whole life insurance: a policy purchased to cover you for your whole life, not just a set period of time. Premiums remain level while the policy is in effect, and the insurer invests a portion of your premiums, building the policy's value over time.
Universal life insurance: used to accumulate investment. You pay a minimum premium PLUS an amount you would like invested. The insurer chooses the investment vehicle, usually only bonds and mortgages, and both your investment and its returns are placed into a cash-value account. This account may then be used to pay future premiums, or it may continue to build.
Variable life insurance: similar to universal life insurance, but includes a broader selection of investment products, including stocks. Beneficiaries receive the policy's face value, OR that amount PLUS the value of your investment account.
There are five ways to ensure you get the best rates on life insurance, along with the best coverage:
Always tell the truth on your life insurance application. Lack of disclosure can cause your policy to be revoked within the first two years.
Schedule required medical tests for first thing in the morning. During this time, your blood pressure and cholesterol levels are lower and you're less stressed.
Review your policy and reapply for lower rates when there are changes in your health.
Shop around for the right coverage. This purchase represents a big decision and a large financial commitment, so comparison shopping just makes sense.